Book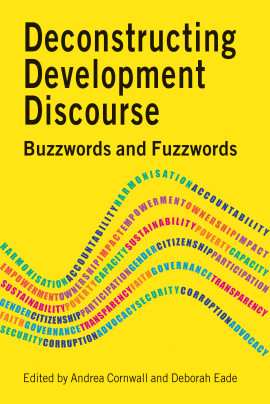 Deconstructing Development Discourse
Buzzwords and Fuzzwords
Published: 2010
Pages: 336

eBook: 9781780440095
Paperback: 9781853397066
Writing from diverse locations, contributors critically examine some of the key terms in current development discourse. Why should language matter to those who are doing development? Surely, there are more urgent things to do than sit around mulling over semantics? But language does matter. Whether emptied of their original meaning, essentially vacuous, or hotly contested, the language of development not only shapes our imagined worlds, but also justifies interventions in real people's lives. If development buzzwords conceal ideological differences or sloppy thinking, then the process of constructive deconstruction makes it possible to re-examine what have become catchall terms like civil society and poverty reduction, or bland aid-agency terms such as partnership or empowerment. Such engagement is far more than a matter of playing word games. The reflections included here raise major questions about how we think about development itself.
Preface (Deborah Eade)
1. Introductory overview (Andrea Cornwall)
2. Development as a buzzword (Gilbert Rist)
3. Words count (Naomi Alfini and Robert Chambers)
4. Poverty reduction (John Toye)
5. Social protection (Guy Standing)
6. Globalisation (Shalmali Guttal)
7. The F-word and the S-word (Cassandra Balchin)
8. Participation (Pablo Alejandro Leal)
9. Citizenship: a perverse confluence (Evelina Dagnino)
10. Taking the power out of empowerment (Srilatha Batliwala)
11. Social capital (Ben Fine)
12. Reflections on relationships (Miguel Pickard)
13. Talking of gender (Ines Smyth)
14. Sustainability (Ian Scoones)
15. From the right to development to the rights-based approach (Peter Uvin)
16. Civil society (Neera Chandhoke)
17. Public advocacy and people-centred advocacy (John Samuel)
18. NGOs: between buzzwords and social movements (Islah Jad)
19. Capacity building (Deborah Eade)
20. Harmonisation (Rosalind Eyben)
21. 'Country ownership' (Willem H. Buiter)
22. Best of practices? (Warren Feek)
23. Peacebuilding does not build peace (Tobias Denskus)
24. The uncertain relationship between transparency and accountability (Jonathan Fox)
25. Corruption (Elizabeth Harrison)
26. 'Good governance' (Thandika Mkandawire)
27. The discordant voices of security (Robin Luckham)
28. Fragile states (Eghosa E. Osaghae)
29. 'Knowledge management' (Robin Broad)
Coda (Deborah Eade)
Index

Andrea Cornwall Andrea Cornwall is Professor of Anthropology and Development in the School of Global Studies at the University of Sussex.
Deborah Eade Deborah Eade was Editor-in-Chief of Development in Practice from 1991 to 2010, prior to which she worked for 10 years in Latin America. She is now an independent writer on development and humanitarian issues, based near Geneva.