Book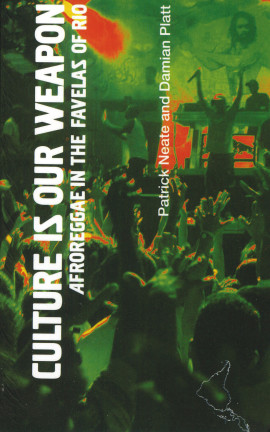 Culture is Our Weapon
AfroReggae in the Favelas of Rio
Series: Latin America Bureau Short Books
Published: 2006
Pages: 174

eBook: 9781909013100
Paperback: 9781899365692
Brazil is a conundrum; even as its culture enjoys an ever higher profile in the West, an undeclared, vicious and often ignored drug war is being fought on the streets of its cities' favelas (shanty towns). Culture is Our Weapon: AfroReggae in the Favelas of Rio is a unique and remarkable book. It tells the story of this war through the eyes of both the protagonists and those it affects, revealing terrifying complexities of life on the frontline of one of the most damaging civil conflicts in Latin America. At centre stage of this ground breaking book is the extraordinary work of Grupo Cultural AfroReggae, a Rio-based NGO which seeks to divert favela residents from the path of poverty and violence, through music and an appreciation of black culture. AfroReggae are a force for real social change; they are also a model for what is possible when an oppressed community decides to resist the twin onslaugh of violence and poverty. This book is co-authored by a prize-winning fiction and non-fiction writer.
Prelims - (Title Page, Copyright Information, Contents, Authors' Note, Preface)

1. Culture is Our Weapon
Patrick Neate
Patrick Neate is the author of four novels. His book Where You're At: Notes from the Frontline of a Hip Hop Planet won the prestigious National Book Critics Circle prize for criticism in the US in 2005.
Damien Platt
Damian Platt is Campaigner on Brazil at Amnesty International in London.
Creativity, informality and cultural work in Rio de Janeiro's favelas
Dinardi, Cecilia
International Journal of Cultural Studies, Vol. 22 (2019), Iss. 2 P.248
https://doi.org/10.1177/1367877918821232
[Citations: 5]
Making Territorial Claims: Brazilian Hip Hop and the Socio-Geographical Dynamics of Periferia
PARDUE, DEREK
City & Society, Vol. 22 (2010), Iss. 1 P.48
https://doi.org/10.1111/j.1548-744X.2010.01030.x
[Citations: 7]
Social Crime Prevention in the Developing World
Pacification in the Favelas: The Role of the Police in Preparing for the Olympics in Rio de Janiero
Grant, Heath
2015
https://doi.org/10.1007/978-3-319-13027-9_5
[Citations: 1]
Favela in Replica: Iterations and Itineraries of a Miniature City
Angelini, Alessandro M.
The Journal of Latin American and Caribbean Anthropology, Vol. 21 (2016), Iss. 1 P.39
https://doi.org/10.1111/jlca.12174
[Citations: 3]
Learning Processes and Social Mobilization in a Swedish Metropolitan Hip-Hop Collective
Beach, Dennis
Sernhede, Ove
Urban Education, Vol. 47 (2012), Iss. 5 P.939
https://doi.org/10.1177/0042085912437415
[Citations: 22]
Ghettourism and Voyeurism, or Challenging Stereotypes and Raising Consciousness? Literary and Non-literary Forays into theFavelasof Rio de Janeiro
WILLIAMS, CLAIRE
Bulletin of Latin American Research, Vol. 27 (2008), Iss. 4 P.483
https://doi.org/10.1111/j.1470-9856.2008.00280.x
[Citations: 36]
Hip‐hop cultures and political agency in Brazil and South Africa
Pieterse, Edgar
Social Dynamics, Vol. 36 (2010), Iss. 2 P.428
https://doi.org/10.1080/02533952.2010.487998
[Citations: 5]
A Favela That Yields Fruit: Community-Based Tour Guides as Brokers in the Political Economy of Cultural Difference
Angelini, Alessandro
Space and Culture, Vol. 23 (2020), Iss. 1 P.15
https://doi.org/10.1177/1206331219865694
[Citations: 5]