Book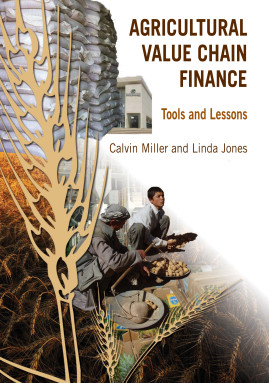 Agricultural Value Chain Finance
Tools and Lessons
Published: 2010
Pages: 192

eBook: 9781780440514
Paperback: 9781853397028
Agriculture remains an important means of alleviating poverty, but shortage of finance can constrain its development. At the same time, agriculture is evolving towards a global system requiring high-quality, competitive products, and is organized in value chains which often exclude smallholders. Value chain financing in agriculture offers an opportunity to increase the scope, and reduce the cost and risk of financing to agriculture. It can also help value chains to be more inclusive, by making resources available for smallholders to be integrated into higher value market opportunities. Agricultural Value Chain Finance provides a comprehensive look at the models, tools and approaches used by industry leaders in all parts of the developing world. These are described, analysed and illustrated by many rich examples in order to demonstrate how they work, and to extract lessons and applications for others to adapt. The book builds on the deep experience of the Food and Agriculture Organization of the UN (FAO) in agricultural development and finance This book is essential reading for agribusiness leaders and technical staff, bankers and cooperative leaders working in agriculture, NGO and microfinance development practitioners, researchers and policy makers. Published in association with FAO.
Prelims (Preface)

1. Introduction: Defining value chain finance

2. Understanding agricultural value chain finance

3. Value chain business models

4. Agricultural value chain finance instruments

5. Innovations

6. Lessons learned and summary recommendations

Back Matter (References Index)
'This book makes a useful contribution to the rapidly expanding literature on value chains by clarifying the myriad methods, some old, some new, used to finance actors in agricultural value chains.' Richard L. Meyer, Professor Emeritus, Ohio State University. 'I recommend the publication to be read by all stakeholders in the agriculture sector.' N. V. Ramana, former CEO, BASIX India, and Chairman, Indian Society of Agribusiness Professionals 'This is a "must read" for anyone interested in value chain finance. The authors have moved forward our understanding by presenting a conceptual framework, supported by an extensive use of case studies, which makes this book indispensible for those involved in financing as well as policy makers.' Kenneth Shwedel, agricultural economist 'An insightful and complete analysis of agricultural value chain financing. An essential reference for anyone interested in improving access to agricultural credit in developing countries.' Mark D. Wenner, Inter-American Development Bank
Calvin Miller
Calvin Miller is Senior Officer, Agribusiness and Finance, with the FAO of the UN. He has extensive field experience with agricultural finance, value chain development and agribusiness development and is founder of the MicroVest Investment Fund.
Linda Jones
Linda Jones, is an internationally recognized consultant in applying market systems approaches to inclusive economic development programmes that successfully leverage the contributions of women, smallholder farmers and other vulnerable groups. She works globally with multiple clients and donors, and is currently directing MEDA's work in investment-led development.