Book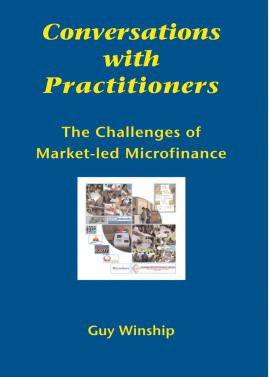 Conversations with Practitioners
The Challenges of Market-led Microfinance
Published: 2007
Pages: 128

eBook: 9781780440743
Paperback: 9781853396236
This is a collection of interviews with leading microfinance practitioners and specialists discussing the challenges facing microfinance institutions as they attempt to become more market-oriented, competitive and sustainable. It was written by a recognised leader in the field on the basis of extensive interviews with leading practitioners and experts, the book is an important and much demanded contribution to the literature on microfinance. This book was written at the request of many microfinance institutions that have been struggling with the sea-change currently underway in the industry, as it matures and moves towards a market-led basis. Reaching the huge untapped market for microfinance entails building the capacity of financial institutions to innovate to meet the diverse and changing needs of a broad range of poor clients - in short a market-led approach. Market-led approaches present many problems and challenges for microfinance professionals. Microfinance practitioners want to hear the views and experiences of the successes and failures of their peers as well as advise from 'experts'.
Prelims (Contents, Abbreviations and Acronyms, Acknowledgements, Introduction: The Shift to Market-Led Microfinance)

1. Meeting: The Practitioners, their Organizations and the Experts

2. In Conversation: The Concept of Market-Led

3. Knowing Your Market

4. The Product Development Process

5. Pricing and Costing

6. Client Satisfaction

7. Human Resource: Development and Management

8. The Institution: Capacity, Structure, and Governance

9. The Environment

10. Critical Issues

11. Conclusion; About Microsave
Guy Winship Guy Winship has more than ten years' experience managing and consulting in microfinance. He was until recently Managing Director of FINCA Uganda – a leading African microfinance institution with over 40,000 clients. He has worked on microfinance programmes in a number of countries in Africa and Asia.