Book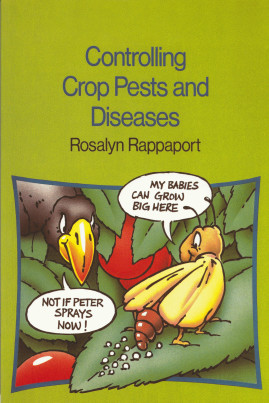 Controlling Crop Pests and Diseases
Published: 2004
Pages: 112

Paperback: 9781853396007
Controlling Crop Pests and Diseases covers pest and disease damage, causative agents, and methods of combatting them. As well as manual and cultural techniques, it describes the knapsack sprayer and its maintenance, showing that expensive chemicals are not necessary - the secrets of cheaply-available or improvised ingredients are revealed. The book also covers protection against larger animals and wind, using hedges and ditches. The examples are illustrated stories presented as strip cartoons for extension staff or teachers to show and hand out to farmers and students. Those who already use storytelling and drama in their work will know their value in extension; others for whom this method is new will find it fresh, stimulating and productive.
Preface – How to use this book

Pests: UNIT 1 Introduction to insects and spiders: The tomato fruit worm;UNIT 2 Mechanical controls: Instead of spraying;UNIT 3 Sap suckers: Aphids, thrips and spider mites; UNIT 4 Insect injury to photosynthesis: Destroying leaves and stealing sap; UNIT 5 Integrated Pest Management: Thinking ahead. Pest control and management decisions; Summary of Units 1-5: Insect Pests and Integrated Pest Management

Spray equipment: UNIT 6 Handmade spray tools: Twigs and plastic bottles; UNIT 7 Hydraulic knapsack sprayers: Safe maintenance/Safe spraying; Summary of Units 6-7: Spray equipment, its manufacture and use

Chemicals and traps for pest control: UNIT 8 Introducing village-available insecticides: Nicotine insecticide; UNIT 9 More village-available insecticides: A tree, a flower and a vine; UNIT 10 Soaps oils and disinfectants; UNIT 11 Mineral and animal based insecticides: Grit and urine; Summary of Units 8-11: Insecticides; UNIT 12 Other small pests, worms, snails, birds, mice and rats; Summary of Unit 12: Nematodes, snails, birds and rodents

Diseases: UNIT 13 Plant parasites: Invisible pests and witchweed; UNIT 14 Integrated disease management: Still thinking ahead; Summary of Units 13-14: Plant parasites, diseases, fungicides and IPM

Protecting crops from larger animals and wind: UNIT 15 Keeping animals out of the garden: Living fence – Hedges

UNIT 16 Strengthening the hedge: Layering and weaving; UNIT 17 Maintaining the hedge: Shape and thickness; UNIT 18 Protection from large animals: Ditches and strips; UNIT 19 Protection from wind: Windbreaks; Summary of Units 15-19: Hedges and ditches

Bibliography. Index
Rosalyn Rappaport
Rosalyn Rappaport is a qualified teacher and agricultural researcher, who has worked as an extension agent in the US Department of Agriculture, as horticulturalist, National Irrigation Research Station, Zambia, and for USAID in Mauritania.