Book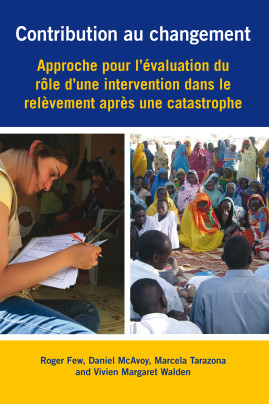 Alors que le nombre de personnes touchées par des catastrophes augmente, il en va de même pour les attentes placées dans les organisations humanitaires par les bailleurs de fonds, le public et les populations touchées. Les organisations doivent à présent fournir des preuves de l'impact de leurs interventions, mais l'application de méthodes d'évaluation conventionnelles peut poser problème. Comment pouvons-nous évaluer la façon dont notre intervention change la donne ? Confiner certaines communautés touchées par une catastrophe dans des groupes de contrôle est-il conforme à l'éthique ? Quel est le degré de faisabilité d'une collecte de données de base parmi les personnes souffrant d'un traumatisme récent ?

Ce guide fournit des méthodes fiables et pratiques pour identifier la contribution d'une organisation à l'heure de changer la vie des personnes lors de la phase de relèvement suivant une catastrophe.
Il présente 11 étapes qui accompagnent les évaluateurs dans la conception de méthodes quantitatives et qualitatives, la collecte de données sur le terrain et le développement d'une description des preuves et du changement. L'approche Contribution au changement encourage à reconnaître les efforts de la communauté même, ainsi que l'impact des autres acteurs tels que le gouvernement ou les groupes communautaires.
Le guide Contribution au changement est destiné aux responsables humanitaires et au personnel de terrain, ainsi qu'aux chercheurs spécialisés dans l'aide humanitaire et le développement international.
Séries (matières | Notes sur les auteurs | Avant-propos | Remerciements)

introduction

Première partie: L'approche

L'accent mis sur l'évaluation de «contribution»

Autres éléments de définition de la méthodologie

Planification et gestion

Deuxième partie: les outils et les méthodes de collecte de données

conception globale

Étapes 1 à 6

Troisième partie: Analyse et rédiger

Les étapes 7 à 11

Retour Matière (Glossaire | Références et autres ressources | annexes)
Roger Few
Roger Few is a Senior Research Fellow at the University of East Anglia.
Daniel McAvoy
Daniel McAvoy is a Lecturer at the University of East Anglia.
Marcela Tarazona
Marcela Tarazona is a Senior Consultant at Oxford Policy Management.
Vivien Margaret Walden
Vivien Walden is the global humanitarian monitoring, evaluation and learning adviser for Oxfam GB. She is currently piloting a methodology for measuring change in the lives of affected communities after a disaster response. Vivien holds a PhD from the University of Manchester in evaluation of behaviour change, with HIV in Zimbabwe as the area of research.