Book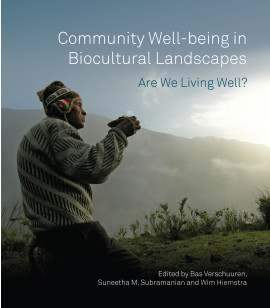 There is a growing recognition that living well must go beyond economic and material plenty to encompass social and spiritual well-being. But what do we understand by these wider aspects of well-being? Community Well-being in Biocultural Landscapes provides an introduction to the concept of human well-being as it relates to international rural development and conservation policy and practice. It demonstrates that well-being is understood and managed in a variety of ways in different cultures but also across the geographical scales at which decision-making processes take place, from the local, to regional, national and international scales. This book shows how community well-being can be measured using indicators chosen by local people to reflect the worldviews of their culture. It provides a unifying approach that is flexible enough to be used by conservation and rural development workers.This book is important reading for the staff of international aid and conservation agencies, for students of international development and those exploring concepts of well-being.
Prelims (Figures, tables and boxes/ Preface/ Foreword)
1 Reflections on well-being: from GDP to local communities and their landscapes
2 Exploring a new approach to well-being assessment
3 Community well-being in Bolivia: an indigenous perspective
4 Community well-being in Sri Lanka: a Buddhist perspective
5 Community well-being in Ghana: a traditional perspective
6 Community well-being and biodiversity conservation: examples from the Equator Initiative
7 An analysis of community well-being in biocultural landscapes: are we living well?
Back Matter (Annex 1 Poverty reduction outcomes in community-led natural resources management programmes)

Bas Verschuuren Bas Verschuuren is associate coordinator with the ETC-COMPAS Network; and co-Chair of the IUCN's Specialist group on Cultural and Spiritual Values of Protected Areas.
Suneetha M. Subramanian Suneetha M. Subramanian is a Senior Research Fellow, United Nations University-Institute of Advanced Studies, Japan.
Wim Hiemstra Wim Hiemstra is trained in bio-dynamic agriculture, a holistic European form of organic farming. He is senior advisor at ETC Foundation, the Netherlands, a non - profit foundation facilitating innovative international networks in participatory rural development, energy and health. He is currently the international coordinator of the COMPAS – Comparing and Supporting Endogenous Development, a programme operating in 15 countries in Africa, Asia and Latin America.