Book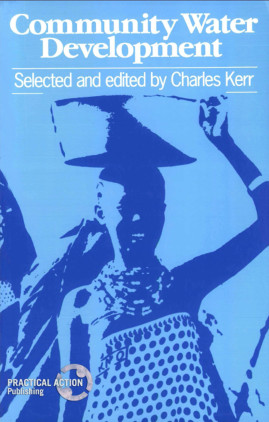 Community Water Development
Published: 1989
Pages: 292

eBook: 9781780444673
Paperback: 9780946688234
The UN Water Decade has been the catalyst for much research and development in water-related fields, and one result of the Decade has been improved dissemination of the water technologies being developed. Community Water Development presents some of the best material from leading researchers and practitioners in rural water supply in developing countries.
The book sets out the original concepts and field experience for the development of appropriate technologies for water supply, and illustrates the changes in thinking which have taken place over the Decade. The various sections, originally published over seven years as articles in Waterlines and Appropriate Technology magazines, cover sources of supply, pumping methods, transport and storage as well as education and training, and questions of planning and management.
People remain at the heart of every contributor's concerns, and overall the sixty articles will provide and invaluable tool for anyone concerned with community-sensitive approaches to water-supply problems, whether they are teachers, students or engineers.
A note on currencies ix

Acronyms x

Preface xi

Technology for the People 1

Appropriate technology for water 1

PETER STERN

People and the Decade: technology and community 6

JOHN PICKFORD

So much to learn 12

JIM HOWARD

Introducing appropriate technology step by step 14

SIMON J. BATCHELOR

Why TOOL changed to small-scale projects 19

GERT VAN DER BIJL and MARK HOFSTRA

2. Shallow Wells 23

Where shall we- dig the well? 23

JOHN ALLSEBROOK

Hand-dug water wells lined with reinforced concrete 29

SIMON WATT and BILL WOOD

Shallow wells for low-cost water supply in Tanzania 33

ROBERT TRIETSCH

Wells for Mali 39

MARC RAEYMAEKERS

Sahel case study: the Gambia 42

BOB MANI and DERRICK KNIGHT

3. Tube-wells 47

Tube-wells and their construction 47

C. K. STAPLETON

Ground-water development using jetted boreholes 57

RICHARD CARTER

Tackling water-supply problems in Uganda with REDR 62

PETER SHAW and ALAN HAYES

Talking to the people—a multi-disciplinary approach to drilling

boreholes in Senegal 65

HILARY SUNMAN

vi COMMUNITY WATER DEVELOPMENT

4. Rain-water Harvesting 72

Rain-water harvesting 73

PETER STERN

Farming with runoff: a weapon against drought? 77

ARNOLD PACEY and ADRIAN CULLIS

Water harvesting in India 81

DEREK RAY

Social dimensions of harvesting rain-water in Turkana 83

PAULA PARK

Rain-water catchment systems in Botswana 86

JOHN GOULD

5. Water Conservation 94

Water from rocks 94

ERIK NISSEN-PETERSEN

Water from sand 98

ERIK NISSEN-PETERSEN

Assisting ground-water recharge by gully-plugging 102

T. S. RANDHAWA

Simple weirs for diverting water 107

TIM STEPHENS

The design and construction of small earth dams 112

JOHN FOWLER

6. Pumping Alternatives 121

Water for rural communities: the choice between

pumping methods 122

ITDG WATER PANEL

The chain and washer pump 132

SIMON WATT

The hydraulic ram 138

SIMON WATT

Windpumps bring water to the Turkana Desert 144

VIVIEN ABBOTT

Solar pumps—a ray of hope in Somalia 146

FROM REPORTS BY GARY COCKETT AND ROBERT FRASER

7. Handpump Testing and Development 150

The Consumers' Association's handpump testing

programme 151

KEN MILLS

World Bank handpumps testing programme 156

SAUL ARLOSOROFF

The Blair Research Laboratory's contributions to

the Water Decade 159

PETER MORGAN AND HARRY McPHERSON

CONTENTS vii

Malaysian villagers comment on simple plastic

handpumps 163

GOH SING YAU AND LOW KWAI SIM

8. Handpump Maintenance 169

The India Mark II handpump and its three-tier

maintenance system 170

GEORGE BALDWIN

A one-tier system: the Tilonia approach to handpump

maintenance 179

SAMJIT ROY

Working towards village-based handpump maintenance—

UNICEF's approach in India 185

KENNETH GRAY

Handpumps in rural Morocco 188

WILLIAM LYNCH

9. Water Transport and Storage 194

Doing the donkey work 194

VAL CURTIS

Water—women's work 199

BARBARA ROGERS

Bamboo water pipes and wooden tanks 201

T. N. LIPANGILE

Ferrocement tanks in Papua New Guinea 205

STEVE LAYTON

Prefabricated fibre-reinforced cement irrigation channels 209

FRANCIS HILLMAN

10. Education and Training 216

Ways of involving women in water projects 217

CAROLYN HANNAN-ANDERSON

Training through work experience 223

KEVIN TAYLER

Planning intensive training courses 227

FRED ROSENSWE1G

Malawi: Demonstration for self-help 232

GUS LIEBENOW

11. Planning and Management 238

Guide-lines on planning and management of rural water

supplies in developing countries 239

ITDG WATER PANEL

Who will look after the village water supply? 246

w. E. WOOD

Managing seasonal man-made water sources: lessons

from Botswana 253

LOUISE FORTMANN

viii COMMUNITY WATER DEVELOPMENT

Towards community-managed drinking-water schemes in Nepal 259

JOHN WILLIAMSON

The falaj—a traditional co-operative system of

water management 268

SALLY SUTTON

References and Further Reading 276
Charles Kerr Charles Kerr one of the contributors, was a civil engineer and a specialist in water supply. Since retiring from full-time consultancy work he became well-known as an expert in low-cost water supply. For the last 15 years of his life he was the technical editor of Waterlines, the journal for low-cost water supply and sanitation. Charles Kerr died in 2001 while this dictionary was in the final stages of preparation.
Rainfed Agriculture: Water Harvesting and Soil Water Conservation
Laryea, K. B.
Outlook on Agriculture, Vol. 21 (1992), Iss. 4 P.271
https://doi.org/10.1177/003072709202100405
[Citations: 5]
Process evaluation of an on-site water testing program in remote Aboriginal communities in Western Australia
Wallace, Margaret
Lower, Tony
Pickett, Ron
International Journal of Environmental Health Research, Vol. 11 (2001), Iss. 4 P.305
https://doi.org/10.1080/09603120120081782
[Citations: 2]
A new rural dispensation? An examination of community development, public works programmes and land resettlement at RA 60 in the Whittlesea district
Nel, Etienne
Smakhtin, Vladimir
Development Southern Africa, Vol. 13 (1996), Iss. 3 P.441
https://doi.org/10.1080/03768359608439905
[Citations: 1]
Handbook of Research on Urban Governance and Management in the Developing World
Informal Sector Operations and the Environment
Chirisa, Innocent
Bobo, Tinashe
2018
https://doi.org/10.4018/978-1-5225-4165-3.ch020
[Citations: 1]
An Emerging Logic of Urban Water Management, Cochabamba, Bolivia
Marvin, Simon
Laurie, Nina
Urban Studies, Vol. 36 (1999), Iss. 2 P.341
https://doi.org/10.1080/0042098993637
[Citations: 32]