Book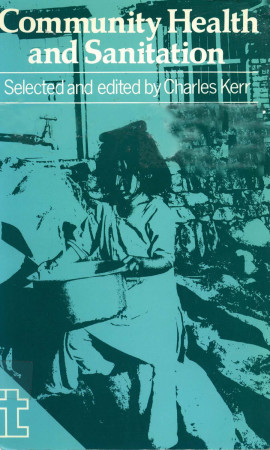 Community Health and Sanitation
Published: 1990
Pages: 300

eBook: 9781780441856
Paperback: 9781853390180
A community-sensitive approach to the developing world's water supply; for students, trainers and engineers alike Community Health and Sanitation deals with disease and problems of water in the house and at the source, waste disposal, and education and training. This is a companion book to the recently published Community Water Development, and, as with that volume, it was considered that publication of selected articles in book form would preserve the information as a valuable reference both for planners and workers in the field. Inevitably, although each volume could stand alone, several articles in each are relevant to the other: sanitation must progress simultaneously with watersupply improvements, as is emphasized in many chapters.
A note on currencies

Acronyms

Preface

1. Water and Sanitation

Pumps and pipes: do they really improve the quality of life?

MARTIN BEYER

Not by pumps alone

SUMI KRISHNA

Rural sanitation and development

JOHN PICKFORD

Women as the key to success

MARYL. ELMENDORF and RAYMOND B. ISELY

Achieving success in community projects

CHARLES CHANDLER

2. Health Aspects

Health aspects of water and sanitation

SANDY CAIRNCROSS

How carrying water affects women's health

ANNIE DUFAUT

Oral rehydration therapy: a cure but not a solution

DENISE AYRES

Water management and malaria control

GEORGE DAVIDSON

A lesson about water: schistosomiasis

KENNETH MOTT

3. Safer Water in the Home

Water collection from thatched roofs

NICK HALL

Sanitation for rural housing in Sri Lanka

ANDREW COTTON and RICHARD FRANCEYS

The performance of aquaprivies in Thai refugee camps

ROBIN BIELLICK and PEGGY HENDERSON

Developing designs for toilets: the case of the Maldives

DEEPA NARAYAN-PARKER

7. Other Sanitation

Waste stabilization pond design: some myths behind the science

JEREMY LUMBERS and BOB ANDOH

Urban sullage in developing countries

JOHN ASHWORTH

Why don't we use the night-soil to produce biogas?

PETER-JOHN MEYNELL

Rural health in northern Pakistan

JAMES MUIR

Better sanitation to beat mosquito breeding

from PRESS TRUST OF INDIA

Hygienic construction in remote African villages

BILL WOOD

8. Training for Health

Training non-technical workers for rural water and sanitation projects

RAY ISELY and FRED ROSENSWEIG

Training village women as health promoters in Tanzania

KRISTIAN LAUBJERG

Sanitation training in Nepal

VANESSA TOBIN

A demonstration sanitation project in the Gambia

D. M. B. JAGNE

Helping women to help themselves

CHRISTINE VAN WIJK-SIJBESMA

9. Community Education and Participation

Hygiene and literacy

ARNOLD PACEY

Pre-testing posters for communicating about water and sanitation

BOB LINNEY

Communications for low-cost sanitation in Zimbabwe

SUE LAVER

Hygiene and health education in primary schools in Lesotho

VIRGINIA DLANGAMANDLA

JO. Programme planning

Communication and health education planning for sanitation programmes

JOHN HUBLEY

Data collection for the design of water and sanitation projects in Belize

DAN CAMPBELL

Village-level sanitation programmes in Zimbabwe

PETER MORGAN

Planning self-sustaining programmes for sanitation: the Lesotho experience

PHIL EVANS

Low-cost sanitation in a squatter town - mobilizing people

SAMI MUSTAFA

11. Strategies for Improvement

One step at a time: WHO's Minimum Evaluation Procedure for watersupply and sanitation projects

GUNNAR SCHULTZBERG, RICHARD FEACHAM and CAROL MACCORMACK

The latrine acquisition curve: a tool for sanitation evaluation

CHRIS SMITH

Reflections on a rural water-supply project in Zambia

JOANNE HARNMEIJER

The Kisumu Primary Health Care Project

MATHEW ONDURU

Water supply in primary health care: experiences of Amazon Indian communities

JAMIE BARTRAM and WARREN JOHNS

References and further reading
Charles Kerr Charles Kerr one of the contributors, was a civil engineer and a specialist in water supply. Since retiring from full-time consultancy work he became well-known as an expert in low-cost water supply. For the last 15 years of his life he was the technical editor of Waterlines, the journal for low-cost water supply and sanitation. Charles Kerr died in 2001 while this dictionary was in the final stages of preparation.