Book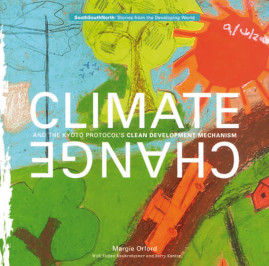 Climate Change and the Kyoto Protocols Clean Development Mechanism
Stories from the developing world
Published: 2004
Pages: 112

Paperback: 9781853395932
Global warming and climate change pose a dire threat to life, demanding urgent global action. The Kyoto Protocol is the United Nations treaty committing signatories to dealing with climate change by reducing greenhouse gas emissions. The Clean Development Mechanism, Article 12 of the Protocol, is a complex trade mechanism which is unique in its promotion of sustainable development. It gives rich and poor countries the opportunity to combine forces through projects in the developing world. Climate Change is a non-technical account of what inspires people to transform the dry language of this international climate change treaty into measurable improvements in people's lives. The projects described have reduced the emission of greenhouse gases through sustainable development in four countries: Brazil, Bangladesh, Indonesia and South Africa. This book shows how the elegant creativity of science can be combined with the delightful unpredictability of politics and human behaviour. These stories come to life through a kaleidoscope of colour photographs and children's artwork. This beautifully illustrated, inspirational book brings the case studies to life and shows what can be achieved by small groups with the desire and the know-how.
This book shows how much untapped potential there is within developing countries, and the impact a small group can achieve in the effort against global warming. The voices in this book radiate spirit and warmth.
Dr John Kilani, Member of the UN Executive Board of the Clean Development Mechanism.

Margie Orford
Margie Orford is a writer and documentary film maker. She specializes in gender and post-colonial notions of place and space.