Book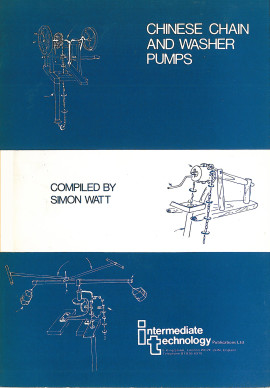 Chinese Chain and Washer Pumps
Published: 1976
Pages: 56

eBook: 9781780441832
Paperback: 9780903031264
Chinese Chain and Washer Pumps contains twenty one versions of the chain and washer water lifting device, displayed at the 1958 Peking Agricultural Exhibition, China. Each version of the pump was designed and built by separate communes, using local materials,
skills and tools.
ACKNOWLEDGEMENTS

CONTENTS

PREFACE

1. AN INTRODUCTION TO THE 1958 PEKING AGRICULTURAL EXHIBITION

2. BACKGROUND OF THE CHAIN AND WASHER PUMPS

3· PRINCIPLES OF OPERATION

4. COMPONENTS Of THE PUMP

5· SOURCES OF POWER AVAILABLE FOR WATER PUMPING, AND POSSIBLE PUMPING RATES

6. TWENTY ONE EXAMPLES OF THE CHAIN AND WASHER PUMP FROM THE 1958 PEKING EXHIBITION

7. WHERE TO GO FOR FURTHER INFORMATION
Simon Watt
Simon Watt is a civil engineer with extensive experience working in the UK, Australia, Canada, India, Pakistan, Papua New Guinea and Thailand.