Book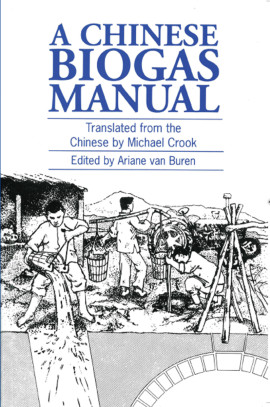 A Chinese Biogas Manual
Popularising technology in the countryside
Ariane van Buren, Michael Crook
Published: 1976
Pages: 136

eBook: 9781780441825
Paperback: 9780903031653
The production of biogas, which is regarded in many countries as a by-product of an efficient system of energy production, has become in China a comprehensive, controlled method of waste disposal, recycling resources, supplying energy and fertilizer and improving rural health, as the digesting of wastes in a closed container kills many of the pathogens responsible for common human diseases.
There are already approximately seven million biogas pits in opertion, with Sichuan (Szechuan) province leading the country in a movement to extend the practice throughout the countryside. This manual describes in detail how to build the pit, and covers a full range of designs to suit various soils from sandstone to sheer rock. It also includes a description of how the original manual was used.
Prelims [Acknowledgements | Introduction]

1 The Advantages of Biogas for Rural Areas

2. Basic Information about Biogas

3. Basic Principles for the Construction of a Biogas Pit

4. Different designs of Biogas Pits

5. Maintenance and Quality Appraisal of Biogas Pits

6. Scientific Management of a Biogas Pit

7. Using Biogas

8. Safety Measures in Building Biogas Pits and Using Biogas

Back Matter [ Appendix I | Appendix II]
Ariane van Buren
Ariane van Buren has worked with large pension funds, foundations and endowments on energy, climate, and water risk. She advised the UN's Principles for Responsible Investment (UNPRI), and also served as director of investor engagement for Ceres and the Investor Network on Climate Risk (INCR), where she led trustee training and action by institutional investors on investment risks and opportunities. Professor van Buren is also a faculty member at Columbia University.
Michael Crook
Michael Crook is co-founder of the Western Academy of Beijing, an international school located in the northeast of Beijing. As the co-founder, teacher and caretaker, he not only gives lectures, but also teaches the children how to make mooncakes and dumplings. More than 1,500 students from 54 countries are registered in the academy.
Leo Pyle Leo Pyle was Emeritus Professor of Biotechnology and former Head of Department of Food Biosciences, University of Reading