Book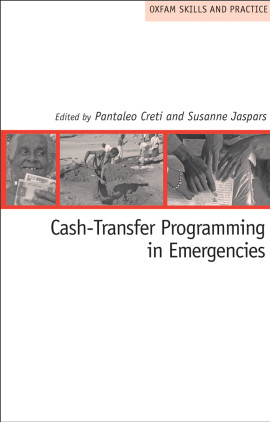 Cash-Transfer Programming in Emergencies
Published: 2006
Pages: 116

eBook: 9780855986742
Paperback: 9780855985639
In emergencies distributing cash can often meet peoples immediate needs more quickly and appropriately than the direct distribution of commodities. Cash gives people choices and thereby preserves their dignity. Commodity distribution often poses logistical problems and, in the case of food aid, it may disrupt local markets. But among humanitarian agencies there are fears that cash transfers will pose security risks, create inflation and fail to be used to meet basic needs. In this guide, the first of its kind, Oxfam staff present the rationale behind cash-transfer programmes. They explain how to assess whether cash is the most appropriate response to any particular emergency. Different types of cash intervention are compared - cash grants, vouchers and cash-for-work with checklists to explain how to implement each of them. The book draws on the practical experience of Oxfam and other agencies, including responses to the devastation caused by the Indian Ocean tsunami in December 2004. The guidelines are primarily intended for NGO personnel: programme managers, food-security specialists, public-health engineers, finance staff and logisticians. Policy makers in donor organisations and international agencies will also find them relevant.
Acknowledgements

Introduction

Part 1 | Planning cash-transfer programmes

1 Why provide cash as a response to emergencies?

2 When is a cash-intervention strategy appropriate?

Part 2 | Implementing cash-transfer programmes

3 Giving cash grants

4 How to implement cash-for-work programmes

5 How to implement voucher programmes

Conclusion

Appendices

1 A logical framework (Oxfam response to Mapou floods, Haiti, 2004)

2 An attendance sheet for a cash-for-work programme

3 A payment requisition form for a cash-for-work programme

4 A daily payment sheet for a cash-for-work programme

5 The market-supply chain – example from Haiti

6 An information sheet for a CFW programme (Kenya, 2001)

7 Community-based targeting

8 A monitoring form for a seed fair (Zimbabwe)

Notes

References
Qualitative analysis of cash‐based interventions for water, sanitation, and hygiene operations and maintenance in internally displaced persons sites in Kachin, Myanmar
Domini, Marta
Pererira, Sunny Guidotti
Win, Aye
Lantagne, Daniele
(2022)
https://doi.org/10.1002/jid.3685
[Citations: 0]
Normas y directrices para intervenciones ganaderas en emergencias (LEGS)
CAPÍTULO 5 - Normas técnicas para el apoyo veterinario
2016
https://doi.org/10.3362/9781780449197.006
[Citations: 1]
Addressing the Challenge of Modeling for Decision-Making in Socially Responsible Operations
Besiou, Maria
Van Wassenhove, Luk N.
(2015) P.n/a
https://doi.org/10.1111/poms.12375
[Citations: 30]
Cash and Climate: The Potential Role of Cash Transfers in Adaptation to Climate Change
Rajouria, Alok
New Angle: Nepal journal of social science and public policy, Vol. 6 (2019), Iss. 1 P.86
https://doi.org/10.53037/na.v6i1.6
[Citations: 0]
Cash-based interventions: lessons from southern Somalia
Mattinen, Hanna
Ogden, Kate
Disasters, Vol. 30 (2006), Iss. 3 P.297
https://doi.org/10.1111/j.0361-3666.2005.00322.x
[Citations: 24]