Book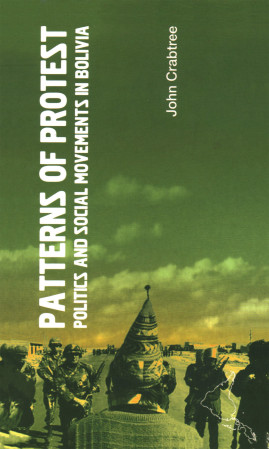 Patterns of Protest
Politics and Social Movements in Bolivia
Series: Latin America Bureau Short Books
Published: 2005
Pages: 128

eBook: 9781909013995
Paperback: 9781899365715
Bolivia leapt onto the front pages of the news in October 2003, when the 'Gas Wars' protests caused the ousting of Bolivia's President, Gonzalo Sanchez de Lozada. In the Gas Wars the indigenous inhabitants, trade unions, and other civil society groups came together to protest the sale of Bolivian natural gas to the United States through a pipeline leading to Chile. In the unrest protestors were killed, and calls for the President to resign grew ever louder. Bolivia has a long history of social protest. In Cochabamba in 2000, the Water Wars saw nearly 10,000 people take to the streets against the privatisation of water. The Bolivian peoples' strong stance against foreign interests and the sale of their natural resources has been triggered by US pressure; first in the 'war on drugs' - the fumigation of 'illegal' coca crops - and pressure waged on a wider front of IMF structural adjustments, and the neo-liberal regime. In Patterns of Protest, UK-based Andean expert John Crabtree explains the antecedents of a poor country's struggle against its most powerful neighbours, and the predatory interests of global capitalism. In a strongly indigenous nation, explains the influence of Quechua and Aymara identity and organising in Bolivian politics, and analyses the unique way that Boliva has united disparate populations - the urban working class and the rural indigenous people - to demand that Bolivian natural resources benefit Bolivians first.
PROLOGUE

Introduction

1 The Cochabamba Water Wars

2 Coca and the Cocaleros

3 The Land Question in Santa Cruz

4 Pensions, Rentistas and the Problems of Old Age

5 Aymara 'Nationalism' and Land in the Altiplano

6 El Alto and the Gas War

Conclusions

ACKNOWLEDGEMENTS

FURTHER READING

INDEX
John Crabtree
John Crabtree is a research associate of the Latin American Centre. His main area of expertise is on the contemporary politics of the Andean region.