Book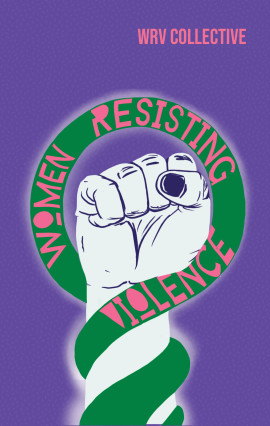 Women Resisting Violence
Latin American women standing up to and transforming gendered and intersectional violence
Women Resisting Violence Collective
Published: 2022
Pages: 160

eBook: 9781909014800
Paperback: 9781909014862
Hardback: 9781909014916
Women Resisting Violence is an illuminating and powerful account of the ways in which women and girls encounter violence and the bold initiatives they are developing to respond to it.

Across Latin America, the number of femicides has grown at an alarming rate, exacerbated by the Covid-19 pandemic. Alongside has come a dramatic increase in domestic violence; loud demands over domestic workers' rights; increased suffering from and fierce resistance to land-grabbing; increased urban violence; violent discrimination against migrants; and the relentless growth of state control over women's reproductive rights.

In Women Resisting Violence, case studies and interviews with women leaders from Latin America highlight the multiple and intersecting forms of gendered violence – where race, ethnicity, skin colour, economic status, and other markers combine to identify, discriminate against, and target women. Collecting a chain of voices, we focus on these women's inspirational strategies for transforming their communities and influencing international laws. Their testimonies underline the importance of culture, commemoration, and the arts in consolidating and amplifying active resistance.

Women's voices are loud and clear: gendered and intersectional violence is rampant in Latin America, but at the grassroots we are pushing back. As the Mexican proverb boldly states, ''They wanted to bury us, but they didn't know we were seeds.'
Introduction

1. Resisting intersectional violence against women in cities

2. Domestic workers

3. Abortion as a battleground - body politics

4. Land grabbing

5. Latin American migrant women

6. Commemoration, violence, and the arts

Conclusions

Podcast
'This highly accessible book is concerned with one of the most important issues in Latin America today and in the future – violence against women. Its uniqueness relates to its focus on women's resistance to violence, rather than women as victims of violence. In a context where diversity is key, it emphasises the intersectional dimensions of women's experiences. The text is accompanied by useful boxes, figures and podcast links. Women Resisting Violence will be core reading for policy-makers, researchers and students alike.'
Caroline Moser, Emeritus Professor, University of Manchester; Honorary Professor, UCL
Women Resisting Violence Collective

The WRV Collective reflects the feminist and collaborative decision-making processes underpinning the project and the writing of this book.
Jelke Boesten is a professor of Gender and Development at the Department of International Development, King's College London.
Andrea Espinoza is a feminist researcher focused on women's and Indigenous people's rights in Latin America, particularly in Ecuador and the Andean region.
Cathy McIlwaine is a professor of Geography at King's College London.
Louise Morris is a journalist and audio producer who's made podcasts, radio, and audiobooks for BBC Radio 4, NPR, Audible, Pottermore and the BBC World Service.
Patricia Muñoz Cabrera (PhD) is an international research consultant and trainer on gender and intersectionality in development policies.
Moniza Rizzini Ansari is a postdoctoral research fellow at the Federal University of Rio de Janeiro, School of Law.
Marilyn Thomson is an independent gender consultant working on issues such as the rights of migrant and refugee women, violence against women and girls, and the care economy.
Rebecca Wilson is Managing Editor at Latin America Bureau.
Add to favourites
Coming soon
Available 15.11.2022
---
eBook
£9.99
---
Paperback
£18.95
---
Hardback
£54.95
---