Book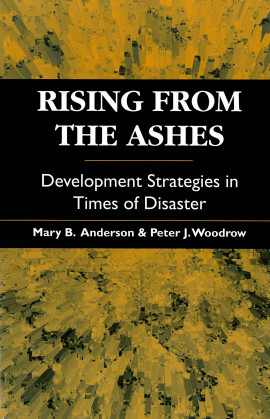 Rising from the Ashes
Development strategies in times of disaster
Mary Anderson, Peter J Woodrow
Published: 1998
Pages: 468

eBook: 9781780445793
Paperback: 9781853394393
Drawing on case histories of emergency relief programmes that have successfully promoted development, the book offers guidelines for fashioning assistance programmes designed to counter the effects of both natural and human-caused disasters. The authors argue that relief efforts must support and enhance existing capacities and they present an analytical framework for assessing the characteristics and needs of afflicted communities.
Preface

Acknowledgments

Introduction

Part I

Lessons Learned and Guidelines for Program Design

Introduction to Part I:

Thinking Development in a World of Disasters

1 A Framework for Analyzing Capacities and Vulnerabilities 9

2 First Decisions in Programming

The Decision to Intervene, 27

North-Sou th Partnerships in Disaster Relief, 35

3 The Context of Programming 39

The Political Con text, e39

The international Policy Context, 42

Information Is Power or Who Needs to Know What? 44

4 Dimensions of Programming

The Myth of Speed, 49

Scale of Program, 52

Duration of Programming, 54

5 People and Programming

Project Participants, 61

Women and Gender Considerations, 66

The Uprooted: Refugees as a Special Case? 68

6 Approaches to Programming

Personnel (When a Northern NGO In terveiies), 75

Expertise, 79

Education and Training, 83

7 Cooperation and Accountability in Programming

Coordination with Other Agencies, 89

Monitoring and Evaluation, 92

8 Closing the Gap Between Principles, Policies, and Practice

Part I1

IRDP Case Histories

Introduction to Part 11: Background and Development of

IRDP Case Histories

9 Wollo Rehabilitation and Disaster Prevention Projects:

Wollo, Ethiopia

10 Ethiopia Emergency Program:

Yifat na Timugo, Ethiopia

11 Proyecto Nueva Vida Armero:

Armero, Colombia

12 Cereal Banks in Burkiqa Faso:

Food Security, Drought, and Development

13 Kordofan Agroforestry Extension Project:

Northern Kordofan, Sudan

14 Earthquake Housing Reconstruction and

Rural Development: Joyabaj, Quiche, Guatemala

15 Local Resource Management Project:

Santo Domingo, Albay, Bicol Region, Philippines

16 Qala en Nahal Refugee Settlement Project:

Eastern Sudan

17 Nomad Program: T i Aicha, Mali

18 Promotion of Health Care Among Khmer Refugees:

Greenhill Site B, Surin, Thailand

19 Northeast Thailand Project: Surin, Thailand

Appendix A: Annotated List ofAdditiona1

IRDP Case Histories

Appendix B: Bibliography
Mary Anderson
Mary B. Anderson is President of the Collaborative for Development Action, Inc., a small consulting firm based in Cambridge, Massachusetts, USA. An economist, Mary Anderson has specialized in: rural development strategies that build on local capacities; gender analysis in development programming; the relationships between emergency relief assistance and long-term development; and educational policies as these affect access to primary education in developing countries
Peter J Woodrow
Peter Woodrow is Project Co-Director of the Collaborative for Development Action, Inc.