Book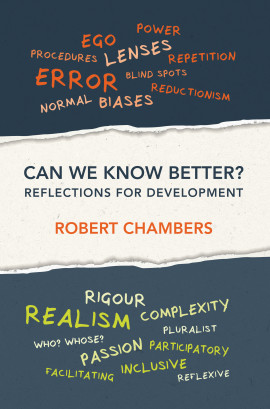 Can We Know Better?
Reflections for development
Published: 2017
Pages: 190

eBook: 9781780449449
Hardback: 9781853399442
Paperback: 9781853399459
This book is intended for all who are committed to human wellbeing and who want to make our world fairer, safer and more fulfilling for everyone, especially those who are 'last'. It argues that to do better we need to know better. It provides evidence that what we believe we know in international development is often distorted or unbalanced by errors, myths, biases and blind spots. Undue weight has been attached to standardised methodologies such as randomized control trials, systematic reviews, and competitive bidding: these are shown to have huge transaction costs which are rarely if ever recognized in their enormity. Robert Chambers contrasts a Newtonian paradigm in which the world is seen and understood as controllable with a paradigm of complexity which recognizes that the real world of social processes and power relations is messy and unpredictable. To confront the challenges of complex and emergent realities requires a revolutionary new professionalism. This is underpinned by a new combination of canons of rigour expressed through eclectic methodological pluralism and participatory approaches which reverse and transform power relations. Promising developments include rapid innovations in participatory ICTs, participatory statistics, and the Reality Check Approach with its up-to-date and rigorously grounded insights. Fundamental to the new professionalism, in every country and context, are reflexivity, facilitation, groundtruthing, and personal mindsets, behaviour, attitudes, empathy and love.

Robert Chambers surveys the past world of international development, and his own past views, with an honest and critical eye, and then launches into the world of complexity with a buoyant enthusiasm. He draws on almost six decades of experience in varied roles in Africa, South Asia and elsewhere as practitioner, trainer, manager, teacher, evaluator and field researcher, also working in UNHCR and the Ford Foundation. He is a Research Associate and Emeritus Professor at the Institute of Development Studies, University of Sussex, his base for many years.

Can We Know Better? is essential reading for researchers and students of development, for policy makers and evaluators, and for all those working towards the better world of the Sustainable Development Goals.

Preface

Acknowledgements

1. Error and myth

2. Biases and blind spots

3. Lenses and lock-ins

4. Rigour for complexity

5. Power, participation, and knowledge: knowing better together

6. Knowing for a better future

Glossary of Meanings

Abbreviations

Index
'T.S. Eliot famously asked, "Where is the wisdom we have lost in knowledge? Where is the knowledge we have lost in information?" The answer: it is here, in this book, in the accumulated knowledge of Robert Chambers' six decades of experience and thinking about development, and in the great wisdom he brings to bear on the fantasies and foibles of practitioners, academics and funders. All of them should take time to read this important book and to think hard about what it means when they go back to their work.'

Ian Smillie, author of The Alms Bazaar, Mastering the Machine and Diamonds, President of the Canadian Association for the Study of International Development, 2015-17

'This book is a salvo against development smugness, much needed at a time when the Sustainable Development Goals are beginning to gain traction. Taking head-on the central question of how we know, and how that shapes what we do through development policy, Chambers employs his clear eye and gently acerbic tongue to show why development professionals need to be more humble, more self-reflexive, and more passionate about our mission.'

Gita Sen, Distinguished Professor & Director, Ramalingaswami Centre on Equity & Social Determinants of Health, Public Health Foundation of India

'Always prescient and always wise, Robert Chambers has given development scholars and practitioners yet another gift with this provocative call for "a revolution in development knowing, thinking, and practice." But what a commentary on development in practice that the supposed beneficiaries of development continue to be marginalized and dispossessed. Weep for them and their needless suffering – but read Chambers's new book and get into action!'
Dr. Robin Broad (Professor after 1st), International Development Program, American University

'Robert Chambers is a global public good, a true development guru that all should follow. In his latest work, he explores our claims to be able to distinguish between what is true and false - what do we 'know' and why do we so often get it wrong? Drawing on almost 60 years of relentlessly questioning orthodoxies and standing up for those excluded from power and decisions, Robert Chambers asks us to fundamentally question the nature of such 'knowledge', its biases and blind spots. Then with his customary energy and optimism, he shows how we can 'know better' and thus 'do better'. An indispensable book.'
Dr. Duncan Green, Strategic Adviser, Oxfam and author of How Change Happens

'Robert Chambers once again demonstrates that assessing both the intractable and the emerging development challenges of today is fundamentally about values — from the personal to the socio-economic and political — and the courage to affirm them. '

Ricardo Wilson-Grau, Independent international evaluator with Ricardo Wilson-Grau Consultoria, Rio de Janeiro, Brazil

'In Can we know better? Robert Chambers provides a stark exposition of the errors of power, and their depressing frequency in development practice. Exposing the tendency of all of us to seek comfort in the myths and misperceptions of our professions with wit, compelling stories and evidence, he lays out the challenge to shift development thinking to a truly universal framing. At the heart is a personal challenge to recognise when we are misled by interests, biases and tricks of memory into ignoring or misrepresenting the realities of change. He shows how, without a commitment to reflecting on ourselves, we run the real risk of getting both the big and small things completely wrong.'
Andrew Norton, Director of the International Institute for Environment and Development

'Robert Chambers' Can We Know Better? is a powerful and timely call for those working in development to stand back and reflect critically on how we know and how we might know better. In this book, Chambers exhaustively categorises manifestations of personal, political and methodological error, bias and privileging. Drawing from a wealth of case study material he illustrates the dramatic and even catastrophic developmental impact of error. He challenges us to know better by recognising and resisting – through critical reflection tied to 'inclusive rigour' and a 'revolutionary professionalism' – all forms of bias and ignorance. For all those development professionals and practitioners – we who are 'not last' but who claim to act for those who are last – this is a profoundly important book.'
Jeremy Holland, Associate, Social Development, Oxford Policy Management

Robert Chambers
Professor Robert Chambers is a research associate of the Institute of Development Studies, Sussex, UK, which has been his base since 1969 with periods in other countries. His educational background is in natural sciences, history and public administration. His main administrative and research experience in development has been in East Africa and South Asia. He is widely recognized as one of the main driving forces behind the great surge of interest in the use of Participatory Rural Appraisal around the world. He has been a Fellow at the Institute of Development Studies since 1972 and is an author, co editor and contributor of many books.
Building inclusive community activism and accountable relations through an intersecting inequalities approach
Shaw, Jackie
Howard, Jo
Franco, Erika López
Community Development Journal, Vol. 55 (2020), Iss. 1 P.7
https://doi.org/10.1093/cdj/bsz033
[Citations: 6]
Seeds for Diversity and Inclusion
Introduction: Thinking About Seeds
Pimbert, Michel
2022
https://doi.org/10.1007/978-3-030-89405-4_1
[Citations: 0]
Using immersion research and people-driven design to improve behavior change programs
Jupp, Dee
International Journal of Market Research, Vol. 63 (2021), Iss. 1 P.9
https://doi.org/10.1177/1470785320980631
[Citations: 0]
Book review: Kelly, Anthony and Westoby, Peter. 2018: Participatory Development Practice: Using Traditional and Contemporary Frameworks
Cochrane, Logan
Progress in Development Studies, Vol. 20 (2020), Iss. 2 P.165
https://doi.org/10.1177/1464993419897027
[Citations: 0]
The Impact of Trust on the Quality of Participation in Development
Hirai, Tadashi
The International Journal of Social Quality, Vol. 10 (2020), Iss. 2 P.72
https://doi.org/10.3167/IJSQ.2020.100207
[Citations: 0]
Communicating for Change
Meaningful Mobilities
Tacchi, Jo
2020
https://doi.org/10.1007/978-3-030-42513-5_9
[Citations: 0]
Participatory Action Research: International Perspectives and Practices
Brydon-Miller, Mary
Kral, Michael
Ortiz Aragón, Alfredo
International Review of Qualitative Research, Vol. 13 (2020), Iss. 2 P.103
https://doi.org/10.1177/1940844720933225
[Citations: 3]
Handbook of Climate Change Management
Enabling Reflexive Decision-Making Towards Transformative Adaptation
Perez, Teresa Sandra
2020
https://doi.org/10.1007/978-3-030-22759-3_96-1
[Citations: 1]
Can agricultural research and extension be used to challenge the processes of exclusion and marginalisation?
Rice, Michelle Jane
Apgar, Jane Marina
Schwarz, Anne-Maree
Saeni, Enly
Teioli, Helen
The Journal of Agricultural Education and Extension, Vol. 25 (2019), Iss. 1 P.79
https://doi.org/10.1080/1389224X.2018.1529606
[Citations: 1]
Information and Communications Technology in Support of Migration
Messy But Mandatory: Including Marginalised Groups in Co-creation Interventions
Louis, Aria
Kassinis, Elizabeth V.
2022
https://doi.org/10.1007/978-3-030-93266-4_7
[Citations: 0]
Payment by results in international development: Evidence from the first decade
Clist, Paul
Development Policy Review, Vol. 37 (2019), Iss. 6 P.719
https://doi.org/10.1111/dpr.12405
[Citations: 5]
A call for critical reflection on the localisation agenda in humanitarian action
Roepstorff, Kristina
Third World Quarterly, Vol. 41 (2020), Iss. 2 P.284
https://doi.org/10.1080/01436597.2019.1644160
[Citations: 46]
Groundtruthing: Harnessing Hope in a Troubled Time
English, Leona M.
New Directions for Adult and Continuing Education, Vol. 2020 (2020), Iss. 165 P.77
https://doi.org/10.1002/ace.20369
[Citations: 1]
Handbook of Climate Change Management
Enabling Reflexive Decision-Making Towards Transformative Adaptation
Perez, Teresa Sandra
2021
https://doi.org/10.1007/978-3-030-57281-5_96
[Citations: 0]
Anticipating workshop fatigue to navigate power relations in international transdisciplinary partnerships: A climate change case study
Perez, Teresa Sandra
Current Sociology, Vol. 69 (2021), Iss. 7 P.1051
https://doi.org/10.1177/0011392120927778
[Citations: 0]
Rethinking research partnerships: Evidence and the politics of participation in research partnerships for international development
Fransman, Jude
Newman, Kate
Journal of International Development, Vol. 31 (2019), Iss. 7 P.523
https://doi.org/10.1002/jid.3417
[Citations: 14]
'Bastard children': unacknowledged consulting companies in development cooperation
White, Pamela
International Development Planning Review, Vol. 42 (2020), Iss. 2 P.219
https://doi.org/10.3828/idpr.2019.36
[Citations: 2]
Poverty, Inequality and the Critical Theory of Recognition
Relational Poverty, Domination and Social Esteem: Recognising the Poor's Agency via a Deliberative Approach to Anti-Poverty Policies
Pitasse Fragoso, Katarina
Lippmann, Pedro
2020
https://doi.org/10.1007/978-3-030-45795-2_12
[Citations: 0]
The Value for Money agenda: from a straitjacket to a learning approach
D'Emidio, Francesca
Wallace, Tina
Development in Practice, Vol. 29 (2019), Iss. 6 P.685
https://doi.org/10.1080/09614524.2019.1586834
[Citations: 1]
Post-normal evaluation?
Schwandt, Thomas A.
Evaluation, Vol. 25 (2019), Iss. 3 P.317
https://doi.org/10.1177/1356389019855501
[Citations: 9]
Using critical reflection to question self and power in international development
Strumm, Brianna
Gender & Development, Vol. 28 (2020), Iss. 1 P.175
https://doi.org/10.1080/13552074.2020.1717173
[Citations: 0]
Add to favourites
---
eBook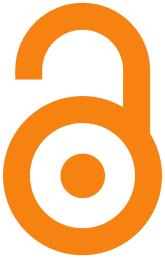 Read
Download book PDF
---
Hardback
£29.95
Add to basket
---
Paperback
£14.95
Add to basket
---