Book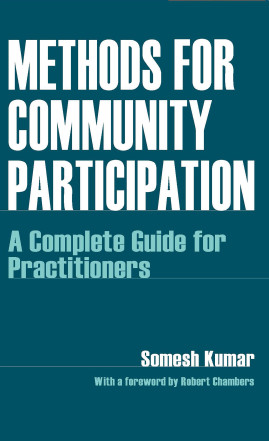 Methods for Community Participation
A complete guide for practitioners
Published: 2002
Pages: 336

eBook: 9781780440279
Paperback: 9781853395543
This book combines the concept, practice and application of participatory rural appraisal (PRA) in a comprehensive manner. The author views PRA as a means of opening up new ways of approaching various problems within the development process. He defines it as a growing body of methods to enable local people to share, enhance and analyse their knowledge of life and conditions in order to plan, act, monitor and evaluate their actions. The basic premise of PRA is that poor and marginalized people are capable of analysing their own realities and that they should be enabled to do so. The book provides examples from experiences, material with directions for use, as well as possibilities for innovation. It is rich in insight from actual practice in the field, and contains useful tips on the best practices which readers and practitioners will find extremely valuable. The final part provides a summary of the concept of PRA. Somesh Kumar joined the Indian Administrative Service (IAS) in 1989, after a brief stint as a psychologist in the Ministry of Defence, Government of India.
Foreword by Robert Chambers

Preface

Acknowledgements

1. Conceptual Specifications

2. Space~related PRA Methods

3. Time,related PRA Methods

4. PRA Relation Methods

5. Summary

6 Myths about PRA

References

Index

About the Author
'Part of the excitement of PRA is that there is no end. There will always be more to discover in our search for better ways of doing things. And we can be grateful for the way this book provides us with a resource of experience and insights on which to draw, helping us to travel further and faster on our individual paths of exploration. Somesh Kumar has compiled this useful collection with the intention of promoting creativity, experimentation and growth. This is, then, a source of ideas and advice, not a set of marching orders.' - Robert Chambers
Somesh Kumar
Somesh Kumar joined the Indian Administrative Service (lAS) in 1989. He is currently District Collector and Magistrate of Anantapur District in Andhra Pradesh. He has also served as Director of the PRA Division of ActionAid India (1996-2000) establishing Praxis-Institute for Participatory Practices, Patna and has contributed significantly to the repertoire of PRA methods and has written a number of publications.