Book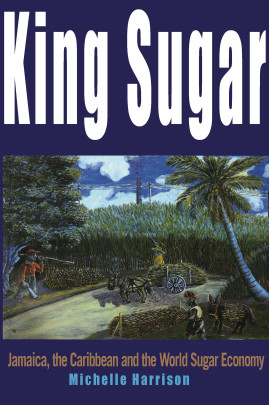 King Sugar
Jamaica, the Caribbean and the World Sugar Industry
Published: 2001
Pages: 176

eBook: 9781909013162
Paperback: 9781899365388
The Caribbean's history is inseparable from sugar, and the crop is still an important feature in the economics of many islands, from Cuba to Barbados. In Jamaica entire communities depend on the sugar industry, earning a precarious living on old-fashioned plantations. What is life like on a sugar plantation at the end of the 20th century? What will happen if the sugar industry collapses? How do the poverty-stricken cane-cutters of rural Jamaica fit into this global industry? This work looks at the world sugar business, identifying the key players - producers, markets and transnational companies - and explaining how the industry works. It explores the economics and politics of trading arrangements, the mysteries of the futures market and the technology of sugar production. Based on interviews with traders, buyers and producers, it follows the commodity's progress from canefield to sugar bowl. The book finally assesses the future of sugar, both in Jamaica and the wider world, and considers future options for those still ruled by "King Sugar".
Introduction: From Caribbean Sugarmill to Global Supermarket

Chapter 1

Living with the Sugar Legacy: Life on a Jamaican plantation

Chapter 2

Sugar as a Commodity

Chapter 3

Turning Cane into Cash: Sugar as Big Business

Chapter 4

Sugar and Strife: Europe and the Evolution of the Caribbean Sugar Industry

Chapter 5

Sugar in the Twentieth Century. The King is dead! Long live the King!

Chapter 6

Bitter Future? Prospects for Change

Table 1: Normal annual production in tonnes

Table 2: Sugar in the Caribbean - selected countries

Table 3: Top three exports of selected Caribbean countries

Table 4: Sugar as a percentage of revenue of total agricultural production

Table 5: The historical perspective - production

Table 6: Sugar production 1950-1999 in thousands of metric tonnes

Bibliography

Index
« Mi have to work »
Johnson, Michele A.
Kerbiriou, Anne-Hélène
Anthropologie et Sociétés, Vol. 41 (2017), Iss. 1 P.147
https://doi.org/10.7202/1040272ar
[Citations: 0]
Globalization, Agriculture and Food in the Caribbean
The Decline of Preferential Markets and the Sugar Industry: A Case Study of Trade Liberalization in Central Jamaica
Burrell, Dorlan
2016
https://doi.org/10.1057/978-1-137-53837-6_5
[Citations: 0]
How Trade Liberalization Affects a Sugar Dependent Community in Jamaica
The Sugar Industry Post-Independence
Stanberry, Donovan
2022
https://doi.org/10.1007/978-3-030-89359-0_4
[Citations: 0]
Follow the Thing
Cook, Ian
Harrison, Michelle
Space and Culture, Vol. 10 (2007), Iss. 1 P.40
https://doi.org/10.1177/1206331206296384
[Citations: 50]
'Rich flames and hired tears': sugar, sub-imperial agents and the Cuban phoenix of empire
Curry-Machado, Jonathan
Journal of Global History, Vol. 4 (2009), Iss. 1 P.33
https://doi.org/10.1017/S1740022809002940
[Citations: 5]
Botanical Gardens and their Role in the Political Economy of Empire: Jamaica (1846–86)
TAYLOR, DUNCAN
Rural History, Vol. 28 (2017), Iss. 1 P.47
https://doi.org/10.1017/S0956793316000169
[Citations: 1]
Geography of Small Islands
Socio-spatial and Globalised Economies
Ratter, Beate M. W.
2018
https://doi.org/10.1007/978-3-319-63869-0_5
[Citations: 0]
Wine, Sugar, and the Making of Modern France
Wine, sugar, and the global economy
2014
https://doi.org/10.1017/CBO9781107707498.003
[Citations: 0]
Negotiating Fairness in the EU Sugar Reform: The Ethics of European-Caribbean Sugar Trading Relations
Richardson-Ngwenya, Pamela
Ethics, Policy & Environment, Vol. 15 (2012), Iss. 3 P.341
https://doi.org/10.1080/21550085.2012.730257
[Citations: 2]
Wine, Sugar, and the Making of Modern France
2014
https://doi.org/10.1017/CBO9781107707498.014
[Citations: 0]
Situated knowledge and the EU sugar reform: a Caribbean life history
Richardson-Ngwenya, Pamela
Area, Vol. 45 (2013), Iss. 2 P.188
https://doi.org/10.1111/area.12011
[Citations: 6]
How Trade Liberalization Affects a Sugar Dependent Community in Jamaica
The Origins and Development of a Plantation Economy
Stanberry, Donovan
2022
https://doi.org/10.1007/978-3-030-89359-0_3
[Citations: 0]
How Trade Liberalization Affects a Sugar Dependent Community in Jamaica
The Theoretical Framework
Stanberry, Donovan
2022
https://doi.org/10.1007/978-3-030-89359-0_2
[Citations: 0]