Book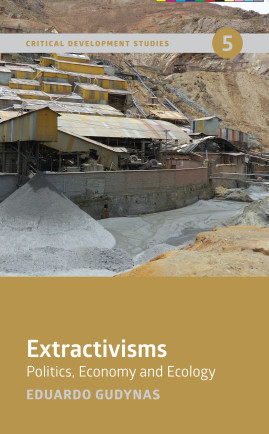 Extractivisms
Politics, Economy and Ecology
Series: Critical Development Studies
Published: 2021
Pages: 168

eBook: 9781788530668
Paperback: 9781788530651
Hardback: 9781788530637
Nature and communities in the global south is being overwhelmed at a shocking rate. In many places this is due to ventures such as large-scale open-pit mining, oil extraction in tropical areas, and the spread of monocultures. These and other such forms of natural resource appropriation are usually known as extractivisms.

This introductory book on the one hand adopts an interdisciplinary and critical perspective, incorporating contributions from economics, politics, ecology, and more. On the other hand it is an exercise in the politics among humans and with the environment. Eduardo Gudnyas explores negative local impacts such as ecological and health degradation or violence, along with spillover effects that redefines democracy and justice. Significantly, presented for the first time in English is a comprehensive overview of the theoretical innovations currently being discussed in the South, such as the distinction between appropriation and production modes and a redefinition of surplus to include social and economic features or new understandings on conflict dynamics. Furthermore, Gudynas discusses the Latin American peculiarities of extractivisms produced both by conservative and new-left governments, making clear that it has very deep roots in culture and ideologies, and offers solutions for the future.
Critical Development Studies Series

Introduction

1. Concepts, Local Impacts and Spillover Effects

2. Modes of Appropriation, Property, Access and Globalization

3. Diversification, Defences and Narratives

4. Nature, Space and Territories

5. Values and Surplus

6. Violence, Conflict and Justice

7. State, Politics and Democracy

8. Postextractivist Transitions

Index
'This book is the result of many years of accumulated knowledge acquired from books and direct experience. Written and thought with demanding erudition and unbeatable passion, it reflects the work of a brilliant mind inhabiting an extraordinary human being. Gudynas's exemplary scholarship has gifted us scholars and politicians with an immensely valuable instrument to learn from, think about and make policy with. Strange to say about an object, but this book is intellectually cosmopolitan: accessible to a very wide public, many will feel at home with it.'
Marisol de la Cadena, University of Calfornia in Davis, author of Earth Beings. Ecologies of Practice across Andean Worlds

'Extractivisms: Politics, Economy and Ecology is the first comprehensive treatment of this crucial subject in the English language by the foremost Latin American social and political ecologist. The book contains Gudynas' distilled knowledge concerning this insidious economic model at the heart of territorial disputes in Latin America and in much of the world, often conducted under the banner of development. It is the most sophisticated framework to date for understanding the extractive appropriation of natural resources; it vividly demonstrates why the model's widespread adoption has resulted in an elite
extractivist culture that reshapes geographies, landscapes and territories — a veritable ecological amputation.'
Arturo Escobar, Professor of Anthropology Emeritus, University of North Carolina, author of Designs for the Pluriverse

'With superb analytical precision, theoretical creativity, and an enormous empirical richness, this book takes the debate about the causes and consequences of natural resource extraction in Latin America to a completely new level. It brings knowledge acquired through decades of work with local communities and social movements, into dialogue with contributions from global social science. With courage and clarity, it also designs paths towards post-extractivism without a general de-growth. I already look forward to teaching next years' course on Latin American politics and environmental governance with this book at hand.
Benedicte Bull, Centre for Development and the Environment, University of Oslo, and chair of the board of the Nordic Institute of Latin American Studies

'In uncertain times, when we are bombarded with predictions of all kinds, it is when we most need to understand the dominant pulsion that nowadays organizes planetary lives and deaths. Rendering accessible the very complex ways in which extractivisms permeate societies, in Latin America and beyond, Eduardo Guydnas has given us a compass to grasp where we collectively stand and where we might (decide to) go. You will want to read this book!'
Mario Blaser, Memorial University of Newfoundland–St John's, author of Storytelling Globalization

'Eduardo Gudynas has carved out a new, grounded, Latin American theory and practice of political ecology fit for purpose in the turbulent times we live in. This introductory text places the variants of "extractivism" in their full context, both theoretical and practical. It also foregrounds the role of social movements in contesting this new/old mode of exploitation and calls for resistance to its life threatening unfolding across Latin America. A must read for students of any discipline and those in the social movements seeking alternatives to development.'
Ronaldo Munck, head of civic engagement, Dublin City University, author of Social Movements in Latin America: Mapping the Mosaic

'To understand the logics of plunder and devastation lived and still present in America, nothing better than to do it from the prism of extractivisms, in the plural as presented in this book. That perspective permits to fully recognize all its consequences, and to understand the need of transitions toward democratic and sustainable societies. Is the liberation from the ghosts of both development and anthropocentrism. To achieve this, nothing better than Gudynas' committed, stimulating and critical reflections.'
Alberto Acosta, former president of the Constitutional Assembly of Ecuador, coeditor of Pluriverse: A Post-Development Dictionary
After progress: Experiments in the revaluation of values
Savransky, Martin
Lundy, Craig
The Sociological Review, Vol. 70 (2022), Iss. 2 P.217
https://doi.org/10.1177/00380261221084417
[Citations: 0]
Enforcing Ecocide
Introduction: Enforcing Ecological Destruction
Dunlap, Alexander
Brock, Andrea
2022
https://doi.org/10.1007/978-3-030-99646-8_1
[Citations: 0]
A climate-smart world and the rise of Green Extractivism
Bruna, Natacha
The Journal of Peasant Studies, Vol. 49 (2022), Iss. 4 P.839
https://doi.org/10.1080/03066150.2022.2070482
[Citations: 3]
Green extractivism and financialisation in Mozambique: the case of Gilé National Reserve
Bruna, Natacha
Review of African Political Economy, Vol. 49 (2022), Iss. 171 P.138
https://doi.org/10.1080/03056244.2022.2049129
[Citations: 0]
From extractivism to global extractivism: the evolution of an organizing concept
Chagnon, Christopher W.
Durante, Francesco
Gills, Barry K.
Hagolani-Albov, Sophia E.
Hokkanen, Saana
Kangasluoma, Sohvi M. J.
Konttinen, Heidi
Kröger, Markus
LaFleur, William
Ollinaho, Ossi
Vuola, Marketta P. S.
The Journal of Peasant Studies, Vol. 49 (2022), Iss. 4 P.760
https://doi.org/10.1080/03066150.2022.2069015
[Citations: 3]
The political economy of agrarian extractivism: Lessons from Bolivia, by BenMcKay. Black Point: Fernwood Publications. 2020 172 pp. $20.00 (paperback). ISBN: 9781773632537
Dunlap, Alexander
Journal of Agrarian Change, Vol. 22 (2022), Iss. 1 P.214
https://doi.org/10.1111/joac.12443
[Citations: 0]
Integrating scientific and local knowledge to address environmental conflicts: the role of academia
Avilés Irahola, Dennis
Mora-Motta, Alejandro
Barbosa Pereira, Aline
Bharati, Luna
Biber-Freudenberger, Lisa
Petersheim, Christian
Quispe-Zuniga, Melissa R.
Schmitt, Christine B.
Youkhana, Eva
(2022)
https://doi.org/10.1007/s10745-022-00344-2
[Citations: 0]