Book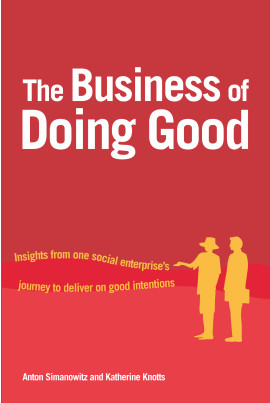 The Business of Doing Good
Insights from one social enterprise's journey to deliver on good intentions
Anton Simanowitz, Katherine Knotts
Published: 2015
Pages: 176

eBook: 9781780448640
Paperback: 9781853398650
Hardback: 9781853398643
Why is it that so many organizations, seeking to do good in the world, miss opportunities to do so – and indeed sometimes exacerbate the very problem they seek to address? The Business of Doing Good reveals six insights for microfinance and other social purpose organizations using the marketplace to tackle a range of pressing social challenges. To deliver on good intentions, we need to do more than simply deliver 'good products', and become organizations designed to do good.
The insights focus on creating a business model that moves beyond conventional wisdom about clients and marketplace. This means getting to grips with the realities of clients' lives, and delivering products that address their real needs (rather than simply chasing market demand). It also means recognizing that our vision is realized through our people. By tapping into their potential, and supporting them to do difficult work, we can do quality work – and innovate to constantly do it better. Finally, the insights challenge us to make our social value proposition work from a business perspective – defining our own trade-offs, and evolving our approach to respond to a fast-changing world.
The Business of Doing Good charts the course of one remarkable and profitable social enterprise (AMK) that has, with single-minded purpose, made radical choices and reached deep into rural Cambodia, touching the lives of almost two million people living in poverty.
This book is important reading for microfinance and development practitioners, social entrepreneurs, impact investors, philanthropists, researchers, and students of international development.
Prelims [About the authors |Foreword |Preface |Acknowledgements |Abbreviations and acronyms | Key people in the history of AMK]
Prologue: Seila's story
Introduction: Going beyond good intentions
Building a business model for good
Does it work?
A brief history
Part I Shedding assumptions about clients
Meeting needs as well as wants
Ensuring access
Balancing the needs of different groups
Chapter 1 Insight: Don't just offer products; respond to client needs
Understanding client livelihoods
Designing products that respond to needs
Looking ahead
Chapter 2 Insight: Ask good questions; have good conversations
Asking good questions
Having good conversations
Using data better
Looking ahead
Part II Translating good intentions
Managing what matters
The end of 'command and control'
Chapter 3 Insight: Do what it says on the tin
Laying the foundation for growth
Stress testing the model
Learning the lessons
Looking ahead
Chapter 4 Insight: Motivate staff to do difficult work in an excellent way
Creating a learning culture
Supporting the learning culture
Building the right Board to deliver value
Looking ahead
Part III Building a business model that works
Choosing the dirt road
An evolving business model
Chapter 5 Insight: Own the dirt road
At war with conventional wisdom
AMK's 'outside-in' strategy
Making the maths work
Maintaining a focus on poor people
Looking ahead
Chapter 6 Insight: Adapt to the changing landscape
Balancing your offering with capacity and context
The dangers of standing still
Exploring the limits of the product offering
The savings story: Bringing it all together
Looking ahead
Conclusions: Taking the road less travelled
How can we do better at doing good?
One organization in a big world
Looking forward

Anton Simanowitz
Anton Simanowitz has been influential since the late 1990s as a practitioner and thought leader in the field of microfinance and social enterprise. He works globally with practitioners, investors, technical assistance providers and policy makers to improve the effectiveness of microfinance and social enterprises in delivering positive social outcomes.
Katherine Knotts
Katherine Knotts works with social purpose organizations to help them become better learners and communicators, in order to be more effective in sparking positive social change.