Book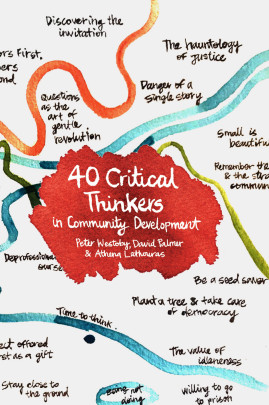 Who are the great activists, thinkers and writers who can inspire us in our community development work?

Environmentalists, poets, philosophers, civil rights activists, trade unionists – all can help us question the assumptions that underlie our international development practice. This book invites students and professionals of community development and citizen activists to reflect on the roots of their practice and discover the wisdom of writers they may not have heard of before.
The book highlights 40 personal and rigorous reflections, distilling several wisdoms and 40 'gems' of ideas for community development, from thought-leaders including Chimamanda Ngozi Adichie, Ela Bhatt, Jacques Derrida, Frantz Fanon, Paulo Freire, bell hooks, John Keats, Rosa Luxemburg, Wangari Maathai, Manfred Max-Neef, Arundhati Roy, E.F. Schumacher, Vandana Shiva, Rabindranath Tagore and Greta Thunberg.

The book's introduction will support readers in creating a personal practice framework, and a Coda/Map of Practice offers a vibrant visual representation of practice wisdoms in watercolour.

40 Critical Thinkers in Community Development is an important resource for daily or weekly readings and reflections, study groups, working or project teams, and as a resource for teachers of community development.
1 Introduction: Towards a reflective community Development practice: Integrating the gems and wisdoms of critical thinkers

2 Jane Addams: Practice mutual accompaniment

3 Chimamanda Ngozi Adichie: The danger of a single story

4 Hannah Arendt: Time to think

5 James Baldwin: We have to go the way our blood beats

6 Homi Bhabha: The value of colonial ambivalence

7 Ela Bhatt: Start with women; may our action be one of nurturance

8 Augusto Boal: Rehearsing the possible

9 Behrouz Boochani: Bearing witness in the face of cruelty

10 Martin Buber: Practice as an encounter

11 Judi Chamberlin: Nothing About Us, Without Us

12 Angela Davis: Unlock the gates of poverties and prisons

13 Jacques Derrida: Deconstruction, a community development 'yet-to-come' and 'the hauntology of justice'

14 Gustavo Esteva: The work of deprofessionalizing ourselves

15 Frantz Fanon: A 'revolution in listening'

16 Paulo Freire: Start with the people, but don't stay with the people

17 Mary Graham: 'Place method' and custodians of land

18 Epeli Hau'ofa: staying close to the ground

19 James Hillman: 'Ensouling the world' and notitia

20 bell hooks: We come to theory because of our pain

21 Myles Horton: Educators first, Organizers second

22 John Keats: Negative capability and coming into a community

23 George Lakoff: Don't think of an elephant!

24 Rosa Luxemburg: Are you willing to go to prison?

25 Wangari Maathai: Plant trees and protect genuine democracy

26 Joanna Macy: 'life comes from reconnecting'

27 Manfred Max-Neef: Poverties, not poverty

28 Chandra Talpade Mohanty: Pay attention to silence and erasure

29 Fran Peavey: Questions are the art of gentle revolution

30 Arundhati Roy: '… do not fragment solidarity …'

31 Deborah Bird Rose: Community as the 'shimmer of life'

32 Bertrand Russell: Community and the value of idleness

33 E.F. Schumacher: Small is Beautiful

34 Richard Sennett: Respect

35 Vandana Shiva: Be a Seed Saver

36 Georg Simmel: The importance of the triad and the stranger in making 'community'

37 Linda Tuhiwai Smith: Listening to old knowledge

38 Rabindranath Tagore: … discovering the invitation …

39 Thich Nhat Hanh: Being, not doing

40 Greta Thunberg: Work where there's desire and political motivation

41 Trinh T. Minh-ha: Recognizing difference in community

42 Conclusion Coda – map of practice
'The ideas in this book reveal the great treasures of knowledge and wisdom that can enrich our lives. Indeed, inspiring thoughts are much needed in this time of fear and panic. The book is an essential companion for anyone involved in the citizen and professional project that is community development.'
Professor Sue Kenny, Deakin University Australia

'Good community development requires critical thinking, otherwise we will just prop up the existing neo-liberal order, with its economic and political injustices, its unsustainability, its patriarchy, its racism, its heteronormativity and its colonialism. This book provides a rich and varied collection of wisdom and critical scholarship, challenging taken-for-granted 'normality', which contributes to our understanding of living and working in community in these troubled times. It contains many 'gems' which will inspire and enhance the practice of community workers.'
Professor Jim Ife, Western Sydney University

'Ideas change the world! Here is an inspiring collection of good ideas to steer a kinder, fairer future out of the wreckage of neoliberalism.'
Professor Margaret Ledwith, University of Cumbria
Peter Westoby
Peter Westoby has been involved in development practice for over thirty years, working as a grassroots practitioner, facilitator and scholar in diverse contexts such as Australia, PNG, the Philippines, Vanuatu, India, South Africa and Uganda. He is currently Associate Professor of Social Science and Community Development at Queensland University of Technology, Australia, and a Visiting Professor at the Centre for Development Support, University of the Free State, South Africa.
David Palmer currently teaches community development at Murdoch University. Much of his work takes him to remote parts of Central and Northern Australia supporting community-controlled projects carried out by Indigenous groups. Often this means he gets to see first-hand both the challenges facing communities, some of whom had their first contact with non-Indigenous people as recently as the 1970s, and a range of creative and culturally grounded projects.
Athena Lathouras, known as 'Tina', had 30 years practice experience in the areas of community development, disability support, and with peak bodies. She is a senior lecturer in the social work programme at the University of the Sunshine Coast; a member of Community Praxis Co-operative and volunteer liaison with Community Development Queensland.
"To be one with others": exploring the development of community leadership in the Rural Philippines
Cloete, Elene
Dasig Salazar, Ami
Development in Practice, Vol. 32 (2022), Iss. 6 P.826
https://doi.org/10.1080/09614524.2022.2065244
[Citations: 0]