Book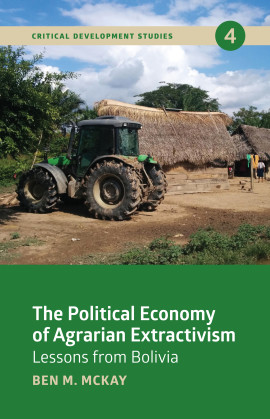 The Political Economy of Agrarian Extractivism
Lessons from Bolivia
Series: Critical Development Studies
Published: 2020
Pages: 172

eBook: 9781788531405
Paperback: 9781788531375
Hardback: 9781788531382
Around the world, plantation economies are on the rise. Increasing concerns over food, energy and financial security, combined with a geopolitical restructuring of the global agrofood system, have resulted in a rush to secure control over resources. New actors and forms of capital penetration have entered the countryside, transforming the forms and relations of production, property and power. Soybeans, with industrial inputs upstream and storage, processing and transportation downstream, have become a quintessential agro-industrial "flex crop," used as feed, food, fuel and industrial materials, but the very extractive character of the soy complex has severe implications for society, the economy and the environment.

The Political Economy of Agrarian Extractivism analyzes how the Bolivian countryside is transformed by the development and expansion of the soy complex and reveals the extractive dynamics of capitalist industrial agriculture, while also challenging dominant discourses legitimating this model as a means to achieve inclusive and sustainable rural development. Ben McKay finds that within the context of Bolivia's first Indigenous president, Evo Morales, and the Movement Towards Socialism, fundamental contradictions abound.

Ben M. McKay is an assistant professor of development and sustainability at the University of Calgary.
Introduction: Agrarian Change and the Politics of Control

1 The Soy Complex in Latin America

2 Land Control: Bolivia's Agrarian Structure and Frontier Expansion

3 State Control: The Politics of Agrarian Change

4 Value-Chain Control: Relations of Debt and Dependency

5 Agrarian Extractivism and the Politics of Control
'Academics and activists who are interested in the politics of agrarian, food, environmental, and political democratization issues must read McKay's compelling book: an empirically rich and theoretically brilliant book on agrarian extractivism.'
Saturnino M. Borras Jr., professor of Agrarian Studies, International Institute of Social Studies; editor-in-chief of the Journal of Peasant Studies and co-author of The Politics of Transnational Agrarian Movements.

'Ben M. McKay provides an advanced analysis of the ways in which large-scale destructive agriculture operates, using its power to nullify various forms of resistance, while revealing how even those promising projects like Evo Morales' "Agrarian Revolution" in Bolivia can end up promoting an (agro)extractivist model. This book is vital for anyone interested in deepening their analysis of contemporary agrarian issues and politics.'
Gonzalo Colque, executive director, Fundación tierra, Bolivia

'McKay's powerful analysis challenges dominant discourses to reveal the highly extractive nature of the industrial soy complex in Bolivia. With rich empirical detail, he shows how the underlying dynamics of agrarian extractivism generate social exclusion and environmental harm.'
Jennifer Clapp, Canada Research Chair in Global Food Security and Sustainability and professor in the School of Environment, Resources and Sustainability at the University of Waterloo, Canada