Book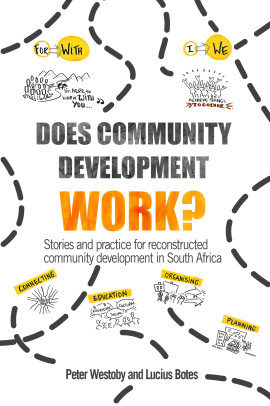 Does Community Development Work?
Stories and practice for reconstructed community development in South Africa
Published: 2020
Pages: 216

eBook: 9781788531320
Paperback: 9781788531290
Hardback: 9781788531306
What makes community development effective? How can we ensure that this work is responsive to the decolonial turn, the call for effectiveness and the need for justice?

Highlighting useful practice frameworks for community development workers – both citizens and professionals – to navigate an increasingly uncertain world, Does Community Development Work? calls for a new quality of reflection and reflexivity. It sets out a post-structural, deconstructive and decolonizing perspective on community development.

Grounded in stories of South African history and community development practice – dealing with issues such as housing, land, cooperatives, education, community protests and urban farming – this book combines story, conceptual insight and theoretical discourse. These detailed stories present a wonderful illustration of the global and South African history of community development.

The book concretizes the vision of several notable individuals including Steve Biko, Mahatma Gandhi, Es'kia Mphahlele and Neville Alexander, whose writings and actions contributed to community development practice.

PART I

2. The South African context: The double story

3. Where we are coming from

4. Community development effectiveness – how do we know we know?

PART II: INTENTIONS AND IDEAS

5. Reaching for a social reconstruction tradition

6. Reconstructing frameworks for practice

PART III: AN ASSEMBLAGE OF STORIES AND POSSIBILITIES

7. Accompanying, horizontal learning and structuring: political practice and the Southern Cape Land Committee

8. Action learning and research, food security and Abalimi Bezekhaya

9. Staged place-based community development and the Hantam Community Education Trust

10. From marginalisation to destiny: anger, violence and community protest in South Africa

11. Informal housing and community development: A historical and human rights approach

12. 'Seeing like a state' and neo-colonial cooperative development within South Africa

13. Interlude: In dialogue with Es'kia—the decolonial turn

14. In conclusion: Promissory reflections
'The beauty of the book is its eloquence in demonstrating the possibilities of a decolonised, emancipatory community development, not just in theory but in practice. The authors demonstrate that creating transformative knowledge and practice, unfettered by what one already knows or assumes, requires radical thinking, co-inquiry engagement, and a reflexivity of discomfort about our own subjectivities and power. It is a must read for all those interested in the praxis of decolonisation.'
Professor Stella M. Nkomo, University of Pretoria

'The authors successfully introduce the importance of a community-led integrated micro-macro level community development framework, together with the four most applicable approaches available to practitioners.
This book provides a timely introduction for students, practitioners and citizens into the history, context and suggested future framework for community development in South Africa, aligned with the contemporary global context of decolonisation.
The richly described case studies, and the authors' convincing argument for self-reflective practice, will appeal to community development practitioners at all levels.'
Cornel Hart, University of the Western Cape

'One of the greatest challenges of our contemporary world is inequality. It is leading to a more polarised world and we cannot address this challenge unless we come together as a community. This is as much a question of practice as a question of policy and government intervention. But such practice is unlikely to be effective unless we deliberate on the science of community development. This book is facilitative of this deliberation on the science of community development practice, reflecting deeply on the philosophy, methodology and case studies of community development. Authored by academics who have long been immersed in this community of practice, the book is a necessary read for all those interested in inclusive development and social cohesion.'
Adam Habib, Vice-Chancellor and Principal of the University of the Witwatersrand

'This book is a must read for community development workers at this critical moment in our global history. Traditional development work has often subjugated communities to comply with the status quo – fitting into what exists now. The critical questions – with whom are we aligned, who benefits from economic policies and structures, and do communities have a say in their own destiny – are deeply discussed in this book. Protests globally indicate that there needs to be a re-construction of development, and this book provides insights, progressive analysis, and some pragmatic ways forward.'
Sally Timmel, co-author of Training for Transformation, Vol. 1-4, and founder or co-founder of seven non-profit organisations in South Africa post-apartheid

'This is a book that rings bells and switches on lights. It is fresh and rooted in real life experiences, contemporary, visionary, practical and accessible, working with accounts of deep practice, with insights to stimulate the thinking and guidance that can support us through the obscure messiness and paradoxes of social change. Rigorous academically and grounded in reality.'
Doug Reeler, Development Practitioner, Tamarind Tree Associates and the Barefoot Guide Connection

Peter Westoby
Peter Westoby has been involved in development practice for over thirty years, working as a grassroots practitioner, facilitator and scholar in diverse contexts such as Australia, PNG, the Philippines, Vanuatu, India, South Africa and Uganda. He is currently Associate Professor of Social Science and Community Development at Queensland University of Technology, Australia, and a Visiting Professor at the Centre for Development Support, University of the Free State, South Africa.
Lucius Botes is a professor in development studies and the director of research development in the Faculty of Economic and Management Sciences, at North-West University (South Africa) and a director of the Karoo Development Foundation and he acts as a development and research consultant to international and national organizations, government departments and companies, and is a director/trustee of various NGOs.
Economic Transitions in South Africa's Secondary Cities: Governing Mine Closures
Marais, Lochner
Nel, Verna
Rani, Kholisa
Van Rooyen, Deidré
Sesele, Kentse
Van der Watt, Phia
Du Plessis, Lyndon
Politics and Governance, Vol. 9 (2021), Iss. 2 P.381
https://doi.org/10.17645/pag.v9i2.4032
[Citations: 3]