Book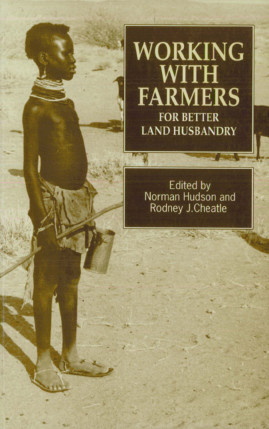 Examines the sustainability of farming systems, the importance of women in agriculture, and the importance of involving landholders at all stages of development. An instructive sourcebook for training programmes, NGO fieldworkers, donors and agencies.
Preface

N.W. HUDSON

Making Conservation Farmer-Friendly

M.G. DOUGLAS

Soil and Water Management for the Nineties - New

Pressures, New Objectives

N.W. HUDSON

CURRENT RURAL DEVELOPMENT IN AFRICA

Introduction

F.N. GICHUKI

Soil Conservation: an Ethiopian experience

B.W. AREGAY and P.A. CHADHOKAR

Sustainable Soil and Water Management in Malawi

L.A.C. BWEYA and N.J. MULENGA

Soil and.Water Conservation in Tanzania

F.B.S. KAIHURA and J.G. MOW0

Soil and Water Management in Uganda

E.S. TAMALE

Soil and Water Management in Zambia

N. MUKANDA and R. MWIINGA

Soil and Water Conservation in Zimbabwe

S. KAVALO and G. NEHANDA

Current Aid Agency Approaches to Soil and Water

Conservation

P. EWELL, D. HUGHES, D.W. SANDERS and R. GALLAGHER,

J.K. RANSOM, A. WOOD, C.S. WORTMANN

Donor Perspectives

JOHN LYNAM

SOCIO-CULTURAL ISSUES

Introduction

EVA TOBISSON

Changing Roles

Integrating a Socio-economic Perspective into Soil and

Water Management in Zambia 64

A.J. SUTHERLAND

ECONOMIC ISSUES

Economic Considerations for Participatob3Q evei'¹menot f '

Natural Resources 7 1

J.P. HUNTER

Economic Management of Natural Resources by Rural

Communities 77

N. REYNOLDS

PARTICIPATORY APPRAISAL, PLANNING, AND DEVELOPMENT

Introduction

R.J. CHEATLE

Participatory Rural Appraisal

ROBERT CHAMBERS

Sustainable Small Farm Development - Frontiers in Participation 96

ROBERT CHAMBERS

participatory Rural Appraisal for Agroforestry - . ' 101

M. AVILA

A Multi-disciplinary Approach to Socio-economic

Constraints and Research Priorities 104

A.J. SUTHERLAND and L.P. SINGOGO

OPPORTUNITIES AND BENEFITS

Introduction

N.W. HUDSON

Choosing Conservation Measures for Cropland on

Smallholdings in Kenya 117

D.B. THOMAS

A Strategy for Better Land Husbandry at Thabana Morena 126

T.F. SHAXSON

Smallholder Adoption of Some Land Husbandry Practices

in Kenya 130

R.J. CHEATLE and S.N.J. NJOROGE

Cash Incomes and Conservation: increasing both

simultaneously 141

S. CAIGER

COMMUNITY DEVELOPMENT CASE STUDIES

Community Participation

P. VEIT

Erosion Control in Machakos, Kenya

B. THOMAS-SLAYTER, C. KABUTHA, and R. FORD

Conservation in Bariadi, Tanzania

THE REV. H. GAPPA

Community Soil Conservation in Kabale, Uganda 162

E.M. TUKAHIRWA and P. VEIT

Agroforestry by Mobisquads in Ghana

C. DORM-ADZOBU, 0 . AMPUDU-AGYEI, and P. VEIT

Water Harvesting in Darfur, Sudan

YAGOUB A. MOHAMED

Joint Energy and Environment Projects (JEEP): wood

energy conservation by participatory activities 172

RUTH KIWANUKA

Traditional Water Management and Irrigation Systems in

Tanzania 174

0. MASCARENHAS

Rehabilitation and Construction of Earth Dams in Swaziland 177

F. MDLULI

LAND HUSBANDRY CASE STUDIES

Introduction

N.W. HUDSON

A Programme for Farm Improvement with Soil

Conservation in Lesotho (FISC) 183

GEDION SHONE

Mobilizing Farmers to Counter Desertification in Nyanza

District, Kenya 190

SR DOLORES RAUCH

Farmer Adoption of Improved Water Management on

Vertisols in Semi-arid South-east Zimbabwe 197

P. NYAMUDEZA, E. MAZHANGARA, T. BUSANGAVANYE, and E. JONES

An Agroforestry Extension Project in Mazabuka District,

Zambia- 203

YEMBO KAONGA and ELIZABETH MALAYISHA

A Study of the Effects of Land Use on Water and Soil

Resources on the Slopes of Mount Kenya 208

HANSPETER LINIGER

Developing Sustainable Grazing Associations in Lesotho

J . P . HUNTER and L.C. WEAVER

CONCLUSIONS

Next Steps Towards Better Land Husbandry

R.J. CHEATLE

Improved Training Approaches for Sustaim-Lam!. ð--

Husbandry

K.H.M. SEGERROS and R.J. CHEATLE

APPENDIX

The Workshop Background

Opening Address in Tanzania

DR B. MOSHl

Opening Address in Kenya

MR J.T. ARAP LETING

Closing Speech in Kenya

MR C.R.J. NYAGA

The Role and Contribution of Rural Sociologists to Sustainable Soil

and Water Management

The Role of Economics in the Sustainability of

Smallholder Systems

J.P. HUNTER and N. REYNOLDS

Participatory Approaches to Soil and Water Conservation for

Sustainable Smallholder Development

References

Further Reading

Participants and Authors

Abbreviations Used in the Text

Index of Place Names

Subject Index
Francis Gichuki Dr. Gichuki is a member of the Kenya Society of Agricultural Engineering (KSAE). He has had research and consultancy experience in soil and water management, irrigation and drainage, water resources management, environmental engineering, community water supply, design of farm implement mechanization, soil dynamics and tillage, and forestry engineering machine design.
The story of the larger grain borer: Communicating Science to Rural Communities
Swart, Christelle
Communicatio, Vol. 30 (2004), Iss. 2 P.114
https://doi.org/10.1080/02500160408537999
[Citations: 0]
Better land husbandry in Honduras: towards the new paradigm in conserving soil, water and productivity
Hellin, J.
Haigh, M. J.
Land Degradation & Development, Vol. 13 (2002), Iss. 3 P.233
https://doi.org/10.1002/ldr.501
[Citations: 34]
Integrating biophysical and socio-economic aspects of soil conservation on the Loess Plateau, China. Part I. Design and calibration of a model
Stocking, M.
Lu, Y.
Land Degradation & Development, Vol. 11 (2000), Iss. 2 P.125
https://doi.org/10.1002/(SICI)1099-145X(200003/04)11:2<125::AID-LDR372>3.0.CO;2-2
[Citations: 5]
The case against direct incentives and the search for alternative approaches to better land management in Central America
Hellin, J
Schrader, K
Agriculture, Ecosystems & Environment, Vol. 99 (2003), Iss. 1-3 P.61
https://doi.org/10.1016/S0167-8809(03)00149-X
[Citations: 30]
Crop residue mulching in tropical and semi-tropical countries: An evaluation of residue availability and other technological implications
Erenstein, Olaf
Soil and Tillage Research, Vol. 67 (2002), Iss. 2 P.115
https://doi.org/10.1016/S0167-1987(02)00062-4
[Citations: 192]
Integrating biophysical and socio‐economic aspects of soil conservation on the Loess Plateau, China. Part III. The benefits of conservation
Lu, Y.
Stocking, M.
Land Degradation & Development, Vol. 11 (2000), Iss. 2 P.153
https://doi.org/10.1002/(SICI)1099-145X(200003/04)11:2<153::AID-LDR374>3.0.CO;2-#
[Citations: 10]
Better Land Husbandry
REFERENCES
2006
https://doi.org/10.1201/b10989-9
[Citations: 0]