Book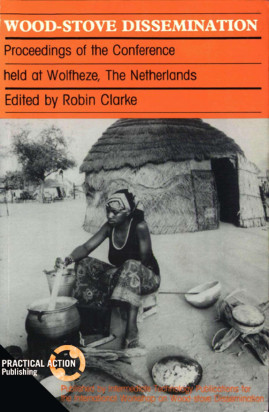 Wood Stove Dissemination
Published: 1985
Pages: 208

eBook: 9781780446486
Paperback: 9780946688555
A collection of papers from an international workshop on the dissemination of improved stoves. The papers are presented in three sections: Part 1 - considers issues involved in wood-stove dissemination, Part 2 - contains eight case studies of projects in Guatemala, Sri Lanka and Africa and Part 3 - provides a summing up.
PREFACE

PART I THE ISSUES

EDITOR'S NOTE

The Papers

The dissemination of rural innovations:

general principles and implications for

wood-stove programmes

The dissemination of improved

wood-stoves

Assessment and monitoring in pilot stove

programmes

Commercial and institutional stoves:

potential for integration into improved

stove programmes

Marketing strategy guidelines for woodstoves

Stove design for improved dissemination

Wood-stove dissemination and testing

Information exchange in wood-stove

development and dissemination

A delivery system for appropriate

technologies

The-role of NGOs in wood-stove

dissemination

Improved cooking stoves in the Sahel

PART II THE CASE HISTORIES

EDITOR'S NOTE

The Papers

The dissemination of wood-stoves in

Guatemala

Improved wood-stove dissemination by

village women: the case of the 'Nada

chulha'

Michael Howes

Rene Masse

Stephen Joseph

Timothy Wood

G. P. W. Scoble

K. Krishna Prasad

G. De Lepeleire

Marilyn W. Hoskins

Ashok Khosla

Achoka A worry

Jacqueline Ki-Zerbo

Armando Cdceres 117

Madhu Sarin 130

Harishini Navaratna

Max Kinyanjui

Aryanto Sudjarwo

Getachew Makuria

Lamine Diop

Moustapha Soumare

Willem Floor

The Sarvodaya stove project in Sri Lanka

The 'jiko' industry in Kenya

Yayasan Dian Desa's wood-conserving

stove project

Wood-stove dissemination: the Ethiopian

experience

Improved stoves in Senegal

Improved stoves in Mali

PART HI SUMMING UP

Improved wood-stoves: some unanswered

issues

STATEMENT OF THE WOLFHEZE MEETING

LIST OF PROJECT PROPOSALS FOR THE SECOND PHASE OF THE

WORKSHOP

LIST OF PARTICIPANTS

GLOSSARY OF ACRONYMS
Renewable Energy Technologies
WOOD AND CHARCOAL STOVES
KRISTOFERSON, L.A.
BOKALDERS, V.
1986
https://doi.org/10.1016/B978-0-08-034061-6.50013-5
[Citations: 0]
Twenty years of resolving the irresolvable: approaches to the fuelwood problem in Kenya
Mahiri, I.
Howorth, C.
Land Degradation & Development, Vol. 12 (2001), Iss. 3 P.205
https://doi.org/10.1002/ldr.433
[Citations: 30]
Investigation of CTARA wood-burning stove. Part I. Experimental investigation
Bhandari, S
Gopi, S
Date, Anil
Sadhana, Vol. 13 (1988), Iss. 4 P.271
https://doi.org/10.1007/BF02759889
[Citations: 6]
Rural Energy and Poverty in Kenya and Lesotho: All Roads lead to Ruin
Wisner, Ben
IDS Bulletin, Vol. 18 (1987), Iss. 1 P.23
https://doi.org/10.1111/j.1759-5436.1987.mp18001004.x
[Citations: 3]