Book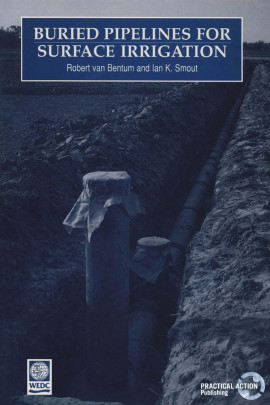 Buried Pipelines for Surface Irrigation
Published: 1994
Pages: 232

eBook: 9781780441788
Paperback: 9781853391873
This book is a comprehensive guide to the use of low-pressure pipelines instead of canal distribution systems for surface irrigation. Buried pipeline systems offer improvements over canals, without the sophistication and high cost of pressurized sprinkler and trickle irrigation. It is, therefore, an intermediate irrigation technology, which may be more appropriate on many irrigation schemes in low- and middleincome countries. It will normally be more efficient and more convenient in operation than conventional canal systems, with fewer environmental problems. The costs are considerably lower than for sprinkler
or trickle systems, and comparable to those of lined canals. The book identifies circumstances where buried pipe systems will be most appropriate, identifies the different types of system, and presents recommendations on selection, design, construction, operation and maintenance of buried pipeline systems.
ACKNOWLEDGEMENTS vi

PREFACE vii

Chapter 1 BURIED PIPE DISTRIBUTION SYSTEMS

FOR SURFACE IRRIGATION 1

Chapter 2 DISTRIBUTION SYSTEM SELECTION 23

Chapter 3 SYSTEM PLANNING AND DESIGN 57

Chapter 4 HYDRAULIC DESIGN 75

Chapter 5 DESIGN CONSIDERATIONS FOR

COMPONENT STRUCTURES 99

Chapter 6 SYSTEM CONSTRUCTION 141

Chapter 7 POST-CONSTRUCTION ISSUES 167

Chapter 8 COST ANALYSIS OF BURIED PIPE

DISTRIBUTION SYSTEMS 175

Chapter 9 TRENDS IN THE UPGRADING AND

DEVELOPMENT OF BURIED PIPE SYSTEMS 189

APPENDICES 191

REFERENCES 217
Ian Smout
Ian Smout has worked on water management in developing countries since 1974, comprising 13 years with an international consultancy firm and 23 years with Loughborough University. Ian Smout was elected in 2008 as a Trustee and Board Member of RedR UK, an international charity that provides professional people and skills for disaster relief. He became Chair of RedR UK in 2010.
Water and the Environment
NEW APPROACHES TO DESIGN AND PERFORMANCE ANALYSIS OF LOW PRESSURE DISTRIBUTION SYSTEMS
2003
https://doi.org/10.1201/9781482272086-39
[Citations: 0]
Van Nostrand's Scientific Encyclopedia
Irrigation
2005
https://doi.org/10.1002/0471743984.vse4303
[Citations: 0]
Use of low-pressure pipe systems for greater efficiency
Smout, Ian K
Agricultural Water Management, Vol. 40 (1999), Iss. 1 P.107
https://doi.org/10.1016/S0378-3774(98)00089-4
[Citations: 3]
Flexible Irrigation Systems: Concept, Design, and Application
Merriam, John L.
Styles, Stuart W.
Freeman, Beau J.
Journal of Irrigation and Drainage Engineering, Vol. 133 (2007), Iss. 1 P.2
https://doi.org/10.1061/(ASCE)0733-9437(2007)133:1(2)
[Citations: 19]
Annex 1: Water-use efficiency on irrigation systems: a review of research carried out under DFID's engineering research programme
Brown, Donald
Agricultural Water Management, Vol. 40 (1999), Iss. 1 P.139
https://doi.org/10.1016/S0378-3774(98)00095-X
[Citations: 2]