Book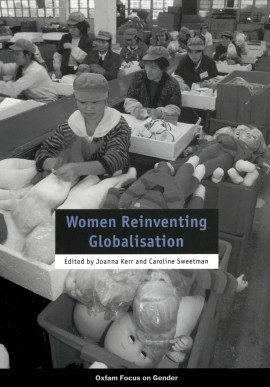 Women Reinventing Globalisation
Published: 2003
Pages: 192

eBook: 9780855988814
Paperback: 9780855984922
The Association for Women's Rights in Development's (formerly AWID) International Forum is the largest international summit on gender equality outside of the United Nations system. It provides an unparalleled opportunity to develop strategies, share ideas, build skills, and provide support - all to advance gender equality and social justice. At the 2002 Forum in Guadelajara, Mexico, hundreds of leaders, scholars and practitioners considered the economic, political, social, ecological and cultural implications of globalisation. They set out to strategise for viable alternatives to its current unsustainable, undemocratic, and exploitative forms.Contributors to this volume analyse current approaches to economic and political change and propose ways of ensuring that their ideas are translated into concrete actions in the years to come. The aim is to re-politicise the gender and development community and examine work that transforms rather than reacts. This volume provides a solutions-oriented approach to profound global changes and their effects on the lives of women. It looks at globalisation through women's eyes, engages in thought-provoking debates, and finds energising ideas.
Editorial 3

Gender budgets and beyond: feminist fiscal policy in the context of globalisation 15

Feminist responses to economic globalisation: some examples of past and future practice 25

Counting for something! Recognising women's contribution to the global economy through alternative accounting systems 35

African women challenging neo-liberal economic orthodoxy: the conception and mission of the GERA programme 44

In search of an alternative development paradigm: feminist proposals from Latin America 52

If I were Minister of Finance ... gaining understanding of financial crisis through a simulation workshop 59

Fundamentalisms, globalisation, and women's human rights in Senegal 69

A daring proposal: campaigning for an inter-American convention on sexual rights and reproductive rights 77

Free markets and state control: a feminist challenge to Davos Man and Big Brother 82

Using the master's tools: feminism, media and ending violence against women 91

Strategic advocacy and maternal mortality: moving targets and the millennium development goals 97

HIV/AIDS, globalisation and the international women's movement 109

New genetic technologies and their impact on women: a feminist perspective 114

Trafficking and women's human rights in a globalised world 125

The women's movement in the era of globalisation: does it face extinction? 135

Institutions, organisations and gender equality in an era of globalisation 142

Resources 150
Caroline Sweetman
Caroline Sweetman is Editor of the international journal Gender & Development and works for Oxfam GB.
The Sachs Report: Investing in Health for Economic Development—Or Increasing the Size of the Crumbs from the Rich Man's Table? Part II
Katz, Alison
International Journal of Health Services, Vol. 35 (2005), Iss. 1 P.171
https://doi.org/10.2190/K9G3-GFEY-QHH2-6XNH
[Citations: 7]
The Palgrave Handbook of Globalization and Sport
Globalization, Sport and Gender Relations
Liston, Katie
Maguire, Joseph
2021
https://doi.org/10.1057/978-1-137-56854-0_10
[Citations: 0]
The Palgrave Handbook of Masculinity and Sport
Developing Sport in a Developing Nation: Gendered Challenges and Considerations
Wardell, Kerry
2020
https://doi.org/10.1007/978-3-030-19799-5_23
[Citations: 0]