Book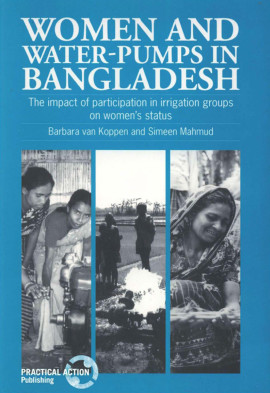 Women and Water-Pumps in Bangladesh
The impact of participation in irrigation groups on women's status
Published: 1996
Pages: 256

eBook: 9781780446462
Paperback: 9781853393365
The increasing availability of mechanized irrigation pumps in rural Bangladesh has opened up the possibility for NGO-supported groups of poor people to become owners of a pump and to use the water for irrigating household land and/or for sale. Women's participation and the impact on their status has been studied in 35 female and mixed-sex irrigation groups dispersed over the country, supported by five different NGOs and the Grameen Bank. The book describes the background, methodologies and conclusions to the studies in detail, with summaries of the policy implications.
PREFACE Vll
ACKNOWLEDGEMENTS viii
INTRODUCTION 1
1 Milk processing 3
General methods of milk processing 3
Milk composition 4
Microbiology of milk 5
Classification of milk products 6
2 Traditional methods and products 9
Cheeses 9
Butters 15
Fermented milks 18
Miscellaneous milk products 25
3 Improving milk processing technologies 26
Sanitation and hygiene 27
Heat treatment 28
Testing milk quality 28
Improvements to cheesemaking 30
Improvements to buttermaking 36
Improvements to fermented milk processing 39
4 Socio-economic considerations 42
Understanding the context 42
Identifying constraints 43
Planning options 43
Checklist for increasing options for milk processing 47
5 Case studies 49
Buttermaking using an internal agitator, Ethiopia 49
Village dairy development in the Occupied Territories, Israel 49
Goat-cheesemaking and marketing, Chile 50
Goat and milk production, Argentina 52
Rural women's milk production, Bolivia 53
Traditional sweetmeats, Bangladesh 54
Mala milk, Tanzania 56
vi DAIRY PROCESSING
GLOSSARY OF TERMS 58
EQUIPMENT SUPPLIERS 59
INSTITUTIONS 60
REFERENCES AND FURTHER READING 62

Barbara van Koppen
Barbara van Koppen is a Principal Researcher at the International Water Management Institute, South Africa.