Book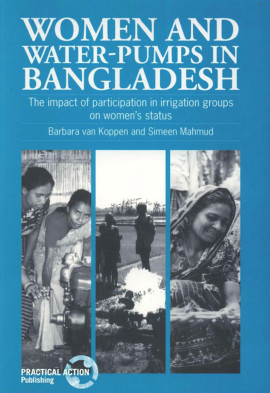 Women and Water-Pumps in Bangladesh
The impact of participation in irrigation groups on women's status
Published: 1996
Pages: 256

eBook: 9781780446462
Paperback: 9781853393365
The increasing availability of mechanized irrigation pumps in rural Bangladesh has opened up the possibility for NGO-supported groups of poor people to become owners of a pump and to use the water for irrigating household land and/or for sale. Women's participation and the impact on their status has been studied in 35 female and mixed-sex irrigation groups dispersed over the country, supported by five different NGOs and the Grameen Bank. The book describes the background, methodologies and conclusions to the studies in detail, with summaries of the policy implications.
9781780446462.000 1
9781780446462.001 37
9781780446462.002 57
9781780446462.003 81
9781780446462.004 93
9781780446462.005 123
9781780446462.006 143
9781780446462.007 177
9781780446462.008 203
9781780446462.009 209
Barbara van Koppen
Barbara van Koppen is a Principal Researcher at the International Water Management Institute, South Africa.