Book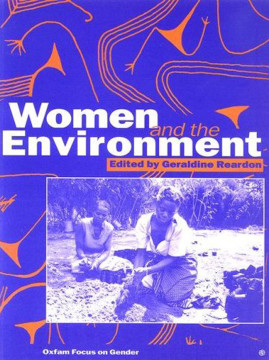 Women and the Environment
Published: 1993
Pages: 62

eBook: 9780855988753
Paperback: 9780855982218
The majority of women in the South have a close and complex relationship to their surroundings. They are profoundly affected by environmental degradation, as they depend directly on natural resources for their livlihoods. Their need for access to these resources often goes unrecognised, as does their role as producers and envronmental managers. At times of natural disasters they are particularly vulnerable. This book is a collection of these complex relationships between women and the environment.
Welcome to Focus on Gender

Briget Walker

Editorial

Geraldine Reardon

Women's relationship with the enviroment

Joan Davidson

Obituary of Joan Davidson

Environmental change and the quality of life

Joanne Harnmeijer and Ann Waters-Bayer

Sustainable development: women as partners

Mariam Dem

Enviroment and women in Uganda: the way I see it

Judy Adoko

Policy statement on population and the environment

High-tech hazards: beyond the factory gate

Claire Hodgson and Geraldine Reardon

Finding a voice

Visanthi Arumagam

The Serdang Declaration

Women in enviromental disasters: the 1991 cyclone in Bangladesh

Rasheda Begum

Enduring the drought: the responses of Zambian Women

Background to the drought

Robin Palmer

Women in the Eastern Province: more hit by drought and yet more enduring

Nawina Hamaundu

After the fisheries: the story of SinalhaNbr>Eugenia Piza-Lopez

Looking for a regenerative approach to sustainability

Nanneke Redclift

Powerful connections: South-South linking

Interview with Josefina Stubbs

Resources - Training pack, Book reviews, Further reading

News from GADU.