Book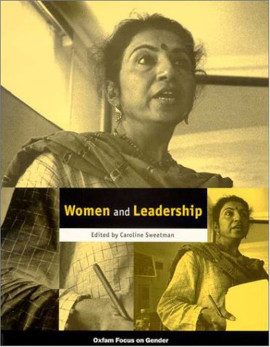 Women and Leadership
Published: 2000
Pages: 72

eBook: 9780855988739
Paperback: 9780855984526
As a given, in no country do women participate in political leadership on a par with men. This collection of writings explores women's own strategies for developing or initiating leadership by women around the world. Women have created thousands of vibrant, visionary organisations of their own, yet they remain absent from the key political and economic institutions shaping access to and control over resources. Women and Leadership is about women resisting exploitation in the workplace; women heading households; women leading in the international policy forum. It offers insights for development policy makers and practitioners aiming to promote gender equality and to support would be women leaders.
Editorial

Caroline Sweetman

'Point of order, Mr Speaker': African women claiming their space in parliment

Sylvia Tamale

From palm tree to parliment: training women for political leadership and public life

Lesley Abdela

Towards realistic strategies for women's political empowerment in Africa

Sara Hlupekilee Longwe

Collective action, organisation building, and leadership: women workers in garment sector in Bangladesh

Petra Dannecker

'Empowered leaders?' Perspectives on women heading households in Latin America and Southern Africa

Kavita Datta and Cathy NcIlwaine

Transformational leadership: advancing the agenda for gender justice

Peggy Antrobus

Leadership for adolescent girls: the role of secondary schools in Uganda

Jill Sperandio

The leadership role of international law in enforcing women's rights: the Optional Protocol to the Women's convention

Kwong-Leung Tang

Leadership for social transformation: some ideas and questions on institutions and feminist leadership

Aruna Rao and David Kelleher

Resources

Compiled by Erin Murphy Graham

Publications

Organisations

Electronic resources

Videos.
Caroline Sweetman
Caroline Sweetman is Editor of the international journal Gender & Development and works for Oxfam GB.
Reasons and remedies for under-representation of women in medical leadership roles: a qualitative study from Australia
Bismark, M.
Morris, J.
Thomas, L.
Loh, E.
Phelps, G.
Dickinson, H.
BMJ Open, Vol. 5 (2015), Iss. 11 P.e009384
https://doi.org/10.1136/bmjopen-2015-009384
[Citations: 65]
Where Women Are
Tracing Kenyan Women's Involvement in Elections and Political Leadership from 1963-2002
Maloiy, Lanoi
2018
https://doi.org/10.4000/books.africae.1868
[Citations: 1]
Problems of Feminist Leadership among Educated Women in Ethiopia
Biseswar, Indrawatie
Journal of Developing Societies, Vol. 24 (2008), Iss. 2 P.125
https://doi.org/10.1177/0169796X0802400203
[Citations: 19]