Book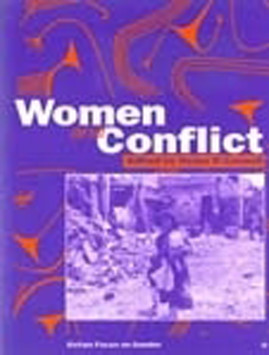 Women and Conflict
Published: 1993
Pages: 58

eBook: 9780855988715
Paperback: 9780855982225
In situations of war or violent conflict, all civilians suffer. However, there are many specific, gender-related human rights issues which organizations involved in relief, development, and emergency work in conflict situations need to address. This book concentrates on gender issues in situations of military and civil strife, and examines the effects of armed conflict on women's lives and the appalling situation of many women refugees and displaced. But other aspects of conflict and exploitation which confront women are also examined: violence in the domestic spheres, the daily infringement of their basic rights, the threat or experience of sexual abuse, the increased stress and workload for women which result from cuts in state services. However, women are not passive victims, and many of the articles in this issue show how they are in the forefront of work for change, peace, security, and equitable gender relations - essential to the reduction of conflict at all levels.
Editorial

Helen O' Connell

Gender-related violence: its scope and relevance

Judy El Bushra and Eugenia Piza-Lopez

Conflict and the women of Chad

Achta Djibrine Sy

Life during wartime: women and conflict in Afghanistan

Fiona McLachan

Working on gender in conflict situations: some ideas on strategy

Judy El Bushra and Eugenia Piza-Lopez

Refugee women: their perspectives and our responses

Tina Wallace

Working with women refugees in easter Sri Lanke

Nalini Kasynathan

The psyco-social effects of 'La Violencia' on widows of El Quiche, Guatemala

Judith Zur

'Clutching at a knifeblade:' human rights and development from Asian women's perspective

Nelia Sancho-Liao

Domestic violence as a development issue

Ruth Jacobson

Forced prostitution of women and girls in Brazil

Anti-Slavery International

Colombian women prisoners in Britain

Jo Fisher

Interview with Sochua Mu Leiper, Director of Khemara

Letters to the Editor

News from GADU

Resource - Book Review and Further reading.
The Palgrave Handbook of African Women's Studies
Women and Transitional Justice in Africa and Latin America
Yacob-Haliso, Olajumoke
Omoigberale, Omonye
2020
https://doi.org/10.1007/978-3-319-77030-7_158-1
[Citations: 0]
Militarism, gender and reproductive suffering: the case of abortion in Western Dinka
Jok, Jok Madut
Africa, Vol. 69 (1999), Iss. 2 P.194
https://doi.org/10.2307/1161022
[Citations: 14]
Inclusion in Post-Conflict Legislatures
Gender and Politics in Northern Ireland and Kosovo
Potter, Michael
2020
https://doi.org/10.1007/978-3-030-25536-7_5
[Citations: 0]
Social contagion and the female face of terror: New trends in the culture of political violence
Knight, W. Andy
Narozhna, Tanya
Canadian Foreign Policy Journal, Vol. 12 (2005), Iss. 1 P.141
https://doi.org/10.1080/11926422.2005.9673393
[Citations: 4]