Book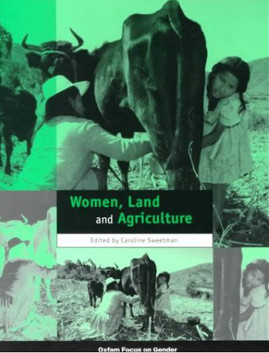 Women, Land and Agriculture
Published: 1999
Pages: 80

eBook: 9780855988791
Paperback: 9780855984212
A collection of essays considering women's access to land and their role in food production in developing countries. Contributors assert that women's contribution to global agricultural production for food and for profit continues to be largely unacknowledged and undervalued and that their ability to farm is constrained by lack of control over land, agricultural inputs, credit and other essential resources.
Editorial

Caroline Sweetman

Liberalisation, gender, and the land question in Sub-Saharan Africa

Kaori Izumi

Does land ownership make a difference? Women's roles in agriculture in Kerala,India

Shoba Arun

Rural development in Brazil: Are we practising feminism or gender?

Cecilia Sardenberg, Ana Alice Costa, and Elizete Passos

Women farmers and economic change in northern Ghana

Rachel Naylor

'Lazy men', time-use, and rural development in Zambia

Ann Whitehead

Intergrating gender needs into drinking water projects in Nepal

Shibesh Chandra Regmi and Ben Fawcett

Structural adjustment, women, and agriculture in Cameroon

Charles Fonchingong

Interview with Penny Fowler and Koos Neefjes of Oxfam GB:Are genetically modified foods a new development?

Resources

compiled by Erin Murphy Graham

Books and Papers

Organisations

Web Resources

E-mail lists

Index to Volume.
Caroline Sweetman
Caroline Sweetman is Editor of the international journal Gender & Development and works for Oxfam GB.