Book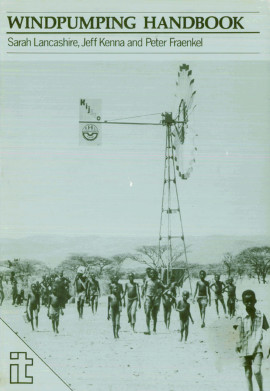 Windpumping is an established technology, with over one million windpumps in use worldwide. A windpump needs no fuel, little maintenance and it usually lasts 20 years or more. Designs exist which are suitable for small-scale local .manufacture. The aim of this handbook is to help potential users and decision makers take advantage of the benefits that windpumps can offer. This handbook was first written for a windpump familiarisation seminar held in Nairobi in November 1986. The seminar was organised and presented by I.T. Power, hosted by the Ministry of Water Development of Kenya and funded by the Overseas Development Administration.
Preface

List of Figures

List of Tables

1. INTRODUCTION

1.1 Purpose of this Handbook

1.2 Windpump technology is time-proven

A brief history of windpumps

Past experience with windpump designs

1.3 The wind.energy resource

The effect of wind speed

The effect of air density

Energy availability

How to find the amount of energy available

from the wind

1.4 Choices of energy resource 9

2. WINDPUMP DESIGN - STATE OF THE ART 11

2.1 Principles of wind energy conversion: Lift and 11

drag

2.2 Rotor design 13

Pitch

Solidity

Tip-speed ratio

Performance coefficient

Torque

2.3 Pump types

2.4 Transmissions, tails and towers

Transmissions

Tails

Towers

2.5 The feasibility of local manufacture

The advantages

Criteria for success

Types of design suitable for local manufacture

3. SITE EVALUATION 25

3.1 Assessing the wind regime 25

The wind regime parameters needed

Wind measurement

Quality of wind data

Measurement options

Choosing the windpump site
Jeff Kenna
He has worked throughout the world specialising in energy policy analysis and evaluation of clean energy technologies for both public bodies such as the European Commission and World Bank and for large commercial companies. Kenna resigned as chief executive of Camco in 2009 and is currently non-executive chairman and working on several new clean energy initiatives.
Peter Fraenkel
Peter Fraenkel is a mechanical engineer with long experience of renewable energy systems and the author of many books and articles on wind, hydro, and tidal energy. He is a leading authority on water pumping technologies for developing country applications and was a founder and Director of I.T. Power from 1981 to 2000.