Book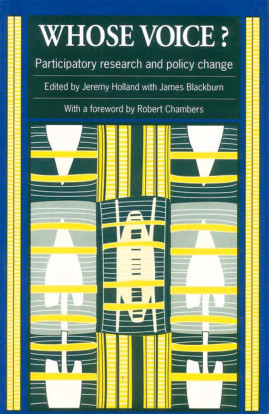 Whose Voice?
Participatory research and policy change
Published: 1998
Pages: 272

eBook: 9781780446431
Paperback: 9781853394195
PRA and related participatory approaches have opened up new ways in which policy can be influenced by the realities of those who are poor, weak, marginalized and excluded. With the increasing use of PRA methods and practices by NGOs, governments and multinational agencies, the potential impact for poor people is phenomenal. Whose Voice? demonstrates the far-reaching implications of such approaches for the development sector. The book incorporates the findings of the international workshop on Institutionalization of Participatory Approaches held at the Institute of Development Studies in 1996 and is presented in an easily digestible three part structure: Part 1 explores case studies in which participatory methods and approaches have been used to influence policy, Part 2 concentrates on PPA (Participatory Poverty Analysis), an innovative approach designed to bring local poverty and policy analysis into the policy process, and Part 3 discusses key issues arising during the IDS workshop, and includes chapters by several participants. Containing detailed case studies from around the world and analysis of key development agencies, NGOs and organizations across the sector over the past decade, Whose Voice? will be invaluable to professionals and policy makers, either directly involved or with a special interest in PRA approaches and methods and their impact upon policy and development.
ACKNOWLEDGEMENTS

ABBREVIATIOANNSD ADDRESSES

Foreword

ROBERT CHAMBERS

1 General Introduction

PART 1: Thematic and sectoral studies

2 Introduction

3 Using PRA for Agricultural Policy Analysis in Nepal:

the Tarai Research Network Foodgrain Study

GERARD GILL

The Tarai Research Network (TRN)

Why use PRA methods?

Summary results

Farmers' views on productivity trends

Conclusions

4 Coping with Cost Recovery in Zambia: a sectoral policy

study

DAVID BOOTH

Background

The experience

Some lessons

5 Designing the Future Together: PRA and education

policy in The Gambia

EILEEN KANE, LAWRENCE BRUCE and MARY OREILLY DE BRUN

The problem

Challenges

Background and sequence of events

Findings, learnings, insights

What triggered the changes in education policy?

Designing the future together

6 Can Policy-focused Research be Participatory? Research

on violence and poverty in Jamaica using PRA methods

CAROLINE MOSER and JEREMY HOLLAND

Context and definitions

Who defines the objectives of the study?

Is the product more important than the process?

Who provides the framework for analysis?

What dissemination procedures best ensure that all voices

are heard?

Conclusion

7 Village Voices Challenging Wetland-management

Policies: PRA experiences from Pakistan and India

BIKSHAM GUJJA, MICHEL PIMBERT and MEERA SHAH

The context

New insights experienced by outsiders

Policy implications

Changes in policy and action

Costs and benefits

Learning from the process

8 The Use of RRA to Inform Policy: tenure issues in

Madagascar and Guinea

KAREN SCHOONMAKER FREUDENBERGER

Background

How RRA was used

A key difference: composition of the research teams

Reasons to use RRA to inform policy discussions

Reasons to include policymakers as members of the RRA

research team

Problems that arise in using RRA to inform policy dialogues

9 Scottish Forestry Policy 'U-turn': was PRA in Laggan

behind it?

ANDY INGLIS and SUSAN GUY

Overview

PRA in Laggan

PRA and policy change: a return to Laggan

Conclusion: what did we learn?

10 IDS Workshop: reflections on thematic and sectoral

studies

What influence have thematic and sectoral studies had?

How can the thematic approach be improved?

PART 2: Participatory poverty assessments

11 Introduction

12 'The One Who Rides The Donkey Does Not Know The

Ground Is Hot': CEDEP's involvement in the Ghana PPA

TONY DOGBE

Rich man, poor man

The PPA studies in Ghana

South-South skills share and networking

Handing over the stick

The RRA-PRA spectrum

Face-to-face interaction

Presenting the findings of PRA-style studies

Policy influence

Conclusion

13 The Impact of PRA Approaches and Methods on Policy

and Practice: the Zambia PPA

JOHN MILIMO, ANDREW NORTON and DANIEL OWEN

Rationale and objectives

The role of the Participatory Assessment Group (PAG)

Methodology

Policy impact

Issues of training and methodology

Emerging strengths of the Zambia PPA process

Emerging lessons from the Zambia PPA process

Conclusion

14 Whose PPA is this? Lessons learned from the

Mozambique PPA

DANIEL OWEN

Introduction

Objectives and planning

Trade-offs in the PPA process: ownership vs. quality

Trade-offs in policy outcomes: rapid information feedback

vs. policy-level acceptability

'Whose PPA is this?'

15 Kicking Down Doors and Lighting Fires: the South

African PPA

HEIDI A'ITWOOD and JULIAN MAY

A means to an end

Designing the South Africa PPA process

From research results to policy recommendations

Strengths and weaknesses

16 PPAs: a review of the World Bank's experience

CAROLINE ROBB

Introduction

Community-level issues

Country-level issues

World Bank issues

PPAs and country policy

PPAs and World Bank policy

Objectives

17 Some Reflections on the PPA Process and Lessons

Learned

ANDREW NORTON

What influence have PPAs had?

How can the PPA process be improved?

PART 3: Whose voice? Reflections fkom the IDS workshop

18 Introduction

19 How Are Local Voices Heard by Policymakers?

IDS WORKSHOP

Bridging discourses: participatory intermediary structures

and the role of the researcher

Merging discourses: bringing policymakers and local people

together

20 Getting Policymakers to Move the Bricks Around:

advocacy and participatory-irrigation management

in India

JAMES BLACKBURN

Inspiration from the Philippines

Working groups

Process Documentation Research (PDR)

A call for NGOs to learn

21 Challenges in Influencing Public Policy: an NGO

perspective

ANIL C. SHAH

22 Towards Community-sensitive Policy: influencing the

Uganda National Health Plan

BEN OSUGA

Approaches and methods used

Main results

Key challenges

23 The Research Process: sustaining quality and maximizing

impact

IDS WORKSHOP

Approaches and methods

Training for participatory policy-focused research

24 Analysing Participatory Research for Policy Change

ANDREW NORTON

From extractive research to participatory development

practice

Preparing for the research

Analysis and reporting in the field

Policy analysis with participatory research findings

Social analysis using PRA material

Notes on poverty analysis using PLAIPRA methods

Dangerous assumptions!

Opening doors - new actors in policy research

25 Participation, Policy Change and Empowerment

IDS WORKSHOP

Whose empowerment does what?

Empowerment and local-level conflict

Participatory process or policy product?

Promoting PRA best practice in policy-focused

research

Afterword

ROBERT CHAMBERS

Making a difference

The future

Annexe 1: World Bank PPA methodology

Annexe 2: worldbank PPA impact analysis

Annexe 3: Key findings and policy recommendations from
Jeremy Holland
Jeremy Holland is Lecturer at the Centre for Development Studies at the University of Wales Swansea and Visiting Lecturer at the Institute for Development Studies, University of Sussex