Book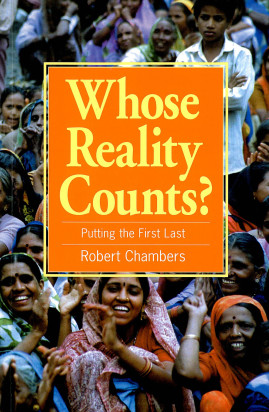 Whose Reality Counts?
Putting the first last
Published: 1997
Pages: 320

eBook: 9781780440453
Paperback: 9781853393860
In this sequel to Rural Development: Putting the last first Robert Chambers argues that central issues in development have been overlooked, and that many past errors have flowed from domination by those with power. Through analysing experience - of past mistakes and myths, and of the continuing methodological revolution of PRA (participatory rural appraisal) - the author points towards solutions. In many countries, urban and rural people alike have shown an astonishing ability to express and analyse their local, complex and diverse realities which are often at odds with the top-down realities imposed by professionals. The author argues that personal, professional and institutional change is essential if the realities of the poor are to receive greater recognition. Whose Reality Counts? presents a radical challenge to all concerned with development, whether practitioners, researchers or policy-makers, in all organizations and disciplines, and at all levels from fieldworkers to the heads of agencies.This is a thought-provoking book and it would interest all those concerned with the realities of the poor in the developing world.
Abbreviations and Addresses

Glossary of Meanings

Preface

Acknowledgements

1 The Challenge to Change

2 Normal Error

3 Professional Realities

4 The Transfer of Reality

5 All Power Deceives

6 Learning to Learn

7 What Works and Why

8 Poor People's Realities: Local, Complex, Diverse, Dynamic and Unpredictable

9 The New High Ground

10 Putting the First Last

Postscript: Past and Future
Robert Chambers
Professor Robert Chambers is a research associate of the Institute of Development Studies, Sussex, UK, which has been his base since 1969 with periods in other countries. His educational background is in natural sciences, history and public administration. His main administrative and research experience in development has been in East Africa and South Asia. He is widely recognized as one of the main driving forces behind the great surge of interest in the use of Participatory Rural Appraisal around the world. He has been a Fellow at the Institute of Development Studies since 1972 and is an author, co editor and contributor of many books.