Book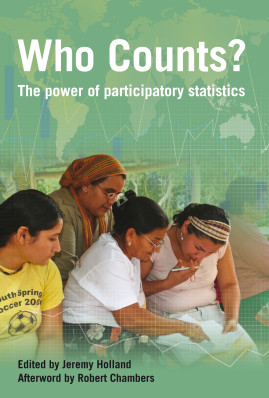 Who Counts?
The power of participatory statistics
Jeremy Holland, Robert Chambers
Published: 2013
Pages: 224

eBook: 9781780447711
Paperback: 9781853397721
Hardback: 9781853397714
Local people can generate their own numbers and the statistics that result are powerful for themselves and can influence policy. Development practitioners are supporting and facilitating participatory statistics from community-level planning right up to sector and national-level policy processes. Statistics are being generated in the design, monitoring and evaluation, and impact assessment of development interventions.Through describing policy, programme and project research, Who Counts? provides impetus for a step change in the adoption and mainstreaming of participatory statistics within international development practice. The challenge laid down is to foster institutional change on the back of the methodological breakthroughs and philosophical commitment described in this book. The prize is a win–win outcome in which statistics are a part of an empowering process for local people and part of a real-time information flow for those aid agencies and government departments willing to generate statistics in new ways.
1 Introduction Participatory statistics: a 'win–win' for international development Jeremy Holland

PART I Participatory statistics and policy change

2 Participatory 3-dimensional modelling for policy and planning: the practice and the potential

Giacomo Rambaldi

3 Measuring urban adaptation to climate change: experiences in Kenya and Nicaragua Caroline Moser and Alfredo Stein

4 Participatory statistics, local decision-making, and national policy design: Ubudehe community planning in Rwanda

Ashish Shah

5 Generating numbers with local governments for decentralized health sector policy and planning in the Philippines

Rose Marie R. Nierras

6 From fragility to resilience: the role of participatory community mapping, knowledge management, and strategic planning in Sudan

Margunn Indreboe Alshaikh

Part II Who counts reality? Participatory statistics in monitoring and evaluation

7 Accountability downwards, count-ability upwards: quantifying empowerment outcomes from people's own analysis in Bangladesh

Dee Jupp with Sohel Ibn Ali

8 Community groups monitoring their impact with participatory statistics in India: reflections from an international NGO Collective

Bernward Causemann, Eberhard Gohl, C. Rajathi, A. Susairaj, Ganesh Tantry and Srividhya Tantry

9 Scoring perceptions of services in the Maldives: instant feedback and the power of increased local engagement

Nils Riemenschneider, Valentina Barca, and Jeremy Holland

10 Are we targeting the poor? Lessons with participatory statistics in Malawi

Carlos Barahona

PART III Statistics for participatory impact assessment

11 Participatory impact assessment in drought policy contexts: lessons from southern Ethiopia

Dawit Abebe and Andy Catley

12 Participatory impact assessment: the 'Starter Pack Scheme' and sustainable agriculture in Malawi

Elizabeth Cromwell, Patrick Kambewa, Richard Mwanza, and Rowland Chirwa with KWERA Development Centre

13 Participatory impact assessments of farmer productivity programmes in Africa Susanne Neubert

Afterword

Robert Chambers

Practical and accessible resources

Index
Jeremy Holland Jeremy Holland is Lecturer at the Centre for Development Studies at the University of Wales Swansea
Robert Chambers Robert Chambers is widely recognized as one of the main driving forces behind the great surge of interest in the use of Participatory Rural Appraisal around the world. He has been a Fellow at the Institute of Development Studies since 1972 and is an author, co editor and contributor of many books.
"Registries are not only a tool for data collection, they are for action": Cancer registration and gaps in data for health equity in six population‐based registries in India
Bhatia, Amiya
Victora, Cesar Gomes
Beckfield, Jason
Budukh, Atul
Krieger, Nancy
International Journal of Cancer, Vol. 148 (2021), Iss. 9 P.2171
https://doi.org/10.1002/ijc.33391
[Citations: 1]
Sourcebook on the Foundations of Social Protection Delivery Systems
Assessing the Performance of Social Protection Delivery Systems
Raimondo, Estelle
Wilson, Briana
Caillava, Inés Rodríguez
Lindert, Kathy
2020
https://doi.org/10.1596/978-1-4648-1577-5_ch9
[Citations: 0]
Opportunity Gap Analysis: Procedures and Methods for Applying the Capability Approach in Development Initiatives
Biggeri, Mario
Ferrannini, Andrea
Journal of Human Development and Capabilities, Vol. 15 (2014), Iss. 1 P.60
https://doi.org/10.1080/19452829.2013.837036
[Citations: 28]
Knowing in Development: A Radical Agenda for the Twenty-First Century
Chambers, Robert
Forum for Development Studies, Vol. 41 (2014), Iss. 3 P.525
https://doi.org/10.1080/08039410.2014.959376
[Citations: 11]
Wiley StatsRef: Statistics Reference Online
Indicators Definition: Weighting Criteria in Social Indexes
Ivaldi, Enrico
Ciacci, Andrea
2020
https://doi.org/10.1002/9781118445112.stat08102
[Citations: 0]
Measuring Peace from the Bottom Up with the Pasto Indigenous Group in Nariño, Colombia
Levy, Naomi
Firchow, Pamina
PS: Political Science & Politics, Vol. 54 (2021), Iss. 3 P.558
https://doi.org/10.1017/S1049096521000275
[Citations: 2]
Rethinking research partnerships: Evidence and the politics of participation in research partnerships for international development
Fransman, Jude
Newman, Kate
Journal of International Development, Vol. 31 (2019), Iss. 7 P.523
https://doi.org/10.1002/jid.3417
[Citations: 14]
Normes et directives pour l'aide d'urgence à l'élevage (LEGS)
CHAPITRE 3 Évaluation initiale et identification des réponses
2017
https://doi.org/10.3362/9781780446745.003
[Citations: 0]
Inclusive rigour for complexity
Chambers, Robert
Journal of Development Effectiveness, Vol. 7 (2015), Iss. 3 P.327
https://doi.org/10.1080/19439342.2015.1068356
[Citations: 13]
Moving interdisciplinary science forward: integrating participatory modelling with mathematical modelling of zoonotic disease in Africa
Grant, Catherine
Lo Iacono, Giovanni
Dzingirai, Vupenyu
Bett, Bernard
Winnebah, Thomas R. A.
Atkinson, Peter M.
Infectious Diseases of Poverty, Vol. 5 (2016), Iss. 1
https://doi.org/10.1186/s40249-016-0110-4
[Citations: 25]
Social policy and embedded evaluation: Assessing the impact of a food insecurity project in the United Kingdom
Purdam, Kingsley
Silver, Daniel
Social Policy & Administration, Vol. 54 (2020), Iss. 7 P.999
https://doi.org/10.1111/spol.12583
[Citations: 3]
Normas y directrices para intervenciones ganaderas en emergencias (LEGS)
CAPÍTULO 3 - Evaluación inicial e identificación de respuestas
2016
https://doi.org/10.3362/9781780449197.004
[Citations: 0]
Can We Know Better?
CHAPTER 5: Power, participation, and knowledge: knowing better together
Chambers, Robert
2017
https://doi.org/10.3362/9781780449449.005
[Citations: 0]
Inter‐ i sland relations in Oceania's archipelagos: Identity and everyday politics
Prinsen, Gerard
Mawyer, Alexander
Cholymay, Margarita
Lotti, Allison
Manuireva, Ena
Muir, Helen
Asia Pacific Viewpoint, Vol. 62 (2021), Iss. 2 P.223
https://doi.org/10.1111/apv.12302
[Citations: 1]
SHARP: integrating a traditional survey with participatory self-evaluation and learning for climate change resilience assessment
Choptiany, John M.H.
Phillips, Suzanne
Graeub, Benjamin E.
Colozza, David
Settle, William
Herren, Barbara
Batello, Caterina
Climate and Development, Vol. 9 (2017), Iss. 6 P.505
https://doi.org/10.1080/17565529.2016.1174661
[Citations: 11]
Ethics in evaluation
Barnett, Chris
Camfield, Laura
Journal of Development Effectiveness, Vol. 8 (2016), Iss. 4 P.528
https://doi.org/10.1080/19439342.2016.1244554
[Citations: 5]
Does beneficiary farmer feedback improve project performance? An impact study of a participatory monitoring intervention in Mindanao, Philippines
Masset, Edoardo
Haddad, Lawrence
(2014) P.1
https://doi.org/10.1080/00220388.2014.959933
[Citations: 0]
Negotiating Knowledge
CHAPTER 1: Introduction: why do NGOs need to negotiate knowledge?
King, Sophie
Kontinen, Tiina
Narayanaswamy, Lata
Hayman, Rachel
2016
https://doi.org/10.3362/9781780449258.001
[Citations: 4]
Participatory numbers for integrating knowledge and actions in development
Gaillard, J.C.
Cadag, Jake Rom
Gampell, Anthony
Hore, Katherine
Le Dé, Loic
McSherry, Alice
Development in Practice, Vol. 26 (2016), Iss. 8 P.998
https://doi.org/10.1080/09614524.2016.1226263
[Citations: 14]
Navigating Complexity in International Development
Seeing the system – participatory systemic inquiry
Burns, Danny
Worsley, Stuart
2015
https://doi.org/10.3362/9781780448510.004
[Citations: 0]
Developing a Pictorial Sisterhood Method in collaboration with illiterate Maasai traditional birth attendants in northern Tanzania
Roggeveen, Yadira
Schreuder, Renske
Zweekhorst, Marjolein
Manyama, Mange
Hatfield, Jennifer
Scheele, Fedde
van Roosmalen, Jos
International Journal of Gynecology & Obstetrics, Vol. 135 (2016), Iss. 1 P.65
https://doi.org/10.1016/j.ijgo.2016.03.035
[Citations: 2]
Negotiating Knowledge
CHAPTER 9: NGOs and the evidence-based policy agenda
Hayman, Rachel
2016
https://doi.org/10.3362/9781780449258.009
[Citations: 6]
Participatory cooperative research: for the people, by the people, with the people
Hannan, Rowshan
Development in Practice, Vol. 25 (2015), Iss. 4 P.490
https://doi.org/10.1080/09614524.2015.1031084
[Citations: 3]
Ten Simple Rules for Cultivating Open Science and Collaborative R&D
Masum, Hassan
Rao, Aarthi
Good, Benjamin M.
Todd, Matthew H.
Edwards, Aled M.
Chan, Leslie
Bunin, Barry A.
Su, Andrew I.
Thomas, Zakir
Bourne, Philip E.
Lewitter, Fran
PLoS Computational Biology, Vol. 9 (2013), Iss. 9 P.e1003244
https://doi.org/10.1371/journal.pcbi.1003244
[Citations: 22]
Reclaiming Everyday Peace
Firchow, Pamina
2018
https://doi.org/10.1017/9781108236140
[Citations: 56]
Approaching Development Projects from a Human Development and Capability Perspective
Apsan Frediani, Alexandre
Boni, Alejandra
Gasper, Des
Journal of Human Development and Capabilities, Vol. 15 (2014), Iss. 1 P.1
https://doi.org/10.1080/19452829.2013.879014
[Citations: 22]
Fairtrade Impacts
CHAPTER 2 – Exploring issues of rigour and utility in Fairtrade impact assessment
Nelson, Valerie
Martin, Adrienne
2017
https://doi.org/10.3362/9781780449067.002
[Citations: 1]
Systemic Participatory Action Research and Learning within Large-Scale Operational Programs to Eradicate Bonded Labor in India
Oosterhoff, Pauline
Burns, Danny
International Review of Qualitative Research, Vol. 13 (2020), Iss. 2 P.140
https://doi.org/10.1177/1940844720933235
[Citations: 0]