Book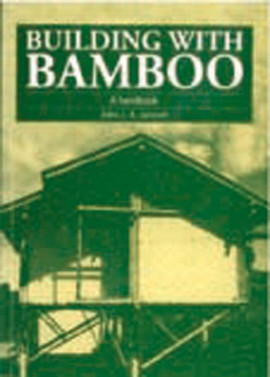 Building with Bamboo
A handbook
Published: 1995
Pages: 72

eBook: 9781780442143
Paperback: 9781853392030
This revised handbook brings together the practical experiences of engineers in the field and of research programmes testing bamboo. The author shows how bamboo can be harvested, seasoned and jointed to form walls, doors and windows, roofs, floors, ceilings, roof trusses and bridges, and how to weave bamboo.
Preface

1 Introduction

2 Harvesting and preservation

3 Mechanical and economic considerations

4 Housing in general

5 Floors and foundations

6 Walls, doors and windows

7 Roofs and ceilings

8 Trusses

9 Bridges

10 Concrete reinforcement

11 Woven bamboo

Case study - Construction of bamboo houses in Costa Rica

References and sources of further information
Jules Janssen
Dr. Jules Janssen is a well-known expert in the field of bamboo as a building and engineering material. He has been keynote speaker on several congresses, and has acted as a member of steering committees, chairman of several sessions, and refereed papers submitted for congresses. Further he has acted as member of committees for Ph.D. studies at several universities and was the supervisor of the National Bamboo Project in Costa Rica from 1987 until 1995.
Composite Materials
Bamboo Fiber-Based Polymer Composites
Das, Mahuya
2017
https://doi.org/10.1007/978-3-662-49514-8_18
[Citations: 1]
Ecological Contingency Accounts for Earliest Seagoing in the Western Pacific Ocean
Anderson, Atholl
The Journal of Island and Coastal Archaeology, Vol. 13 (2018), Iss. 2 P.224
https://doi.org/10.1080/15564894.2016.1277286
[Citations: 13]
Optimization of assembly instructions for a low-cost housing solution
Torres-Sanchez, Carmen
Huang, Changxi
Steel, Garry
Information Design Journal, Vol. 22 (2016), Iss. 1 P.32
https://doi.org/10.1075/idj.22.1.04tor
[Citations: 0]
Experimental Study of Twin Bamboo Concrete Composite Column under Laterally Restrained Pure Axial Loading
Chaaruchandra, Korde
Gupta, Ashok
Sudhakar, P.
Key Engineering Materials, Vol. 517 (2012), Iss. P.203
https://doi.org/10.4028/www.scientific.net/KEM.517.203
[Citations: 0]
2019 International Bamboo Construction Competition
In-Box House
Erkissa, Lelissa
Tekle, Mikyas
Mucheye, Simon
2022
https://doi.org/10.1007/978-3-030-91990-0_6
[Citations: 0]
Study on Compressive Strength of Semantan Bamboo Culm (<i>Gigantochloa Scortechinii</i>)
Jusoh, Noor Zuraida
Ahmad, Mansur
Azmi, Ibrahim
Applied Mechanics and Materials, Vol. 330 (2013), Iss. P.96
https://doi.org/10.4028/www.scientific.net/AMM.330.96
[Citations: 1]
Modeling bamboo as a functionally graded material: lessons for the analysis of affordable materials
Silva, Emílio Carlos Nelli
Walters, Matthew C.
Paulino, Glaucio H.
Journal of Materials Science, Vol. 41 (2006), Iss. 21 P.6991
https://doi.org/10.1007/s10853-006-0232-3
[Citations: 135]
Investigating Compressive and Cleavage Strengths of an Indian Bamboo Species
Mukhopadhyay, Parthasarathi
Dutta, Sekhar Chandra
Journal of Materials in Civil Engineering, Vol. 27 (2015), Iss. 9
https://doi.org/10.1061/(ASCE)MT.1943-5533.0001187
[Citations: 5]
Bamboo
Bamboo Taxonomy and Distribution Across the Globe
Akinlabi, Esther Titilayo
Anane-Fenin, Kwame
Akwada, Damenortey Richard
2017
https://doi.org/10.1007/978-3-319-56808-9_1
[Citations: 6]
Sustainability Guidelines for the Structural Engineer
Natural Building Materials and Systems
Dhillon, Carla M.
Aschheim, Mark
2010
https://doi.org/10.1061/9780784411193.ch18
[Citations: 1]
Bamboo
Current Trend in Bamboo Analysis
Akinlabi, Esther Titilayo
Anane-Fenin, Kwame
Akwada, Damenortey Richard
2017
https://doi.org/10.1007/978-3-319-56808-9_6
[Citations: 0]