Book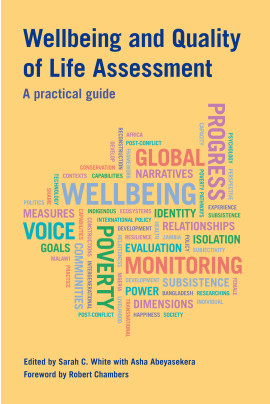 Wellbeing and Quality of Life Assessment
A practical guide
Sarah C White, Asha Abeyasekera
Published: 2014
Pages: 172

eBook: 9781780448411
Paperback: 9781853398421
Hardback: 9781853398414
Human development may encompass social, cultural and spiritual facets as well as economic improvement, and development organizations are beginning to recognize this fact. But building into programming a wider understanding of development throws up a number of questions: how do our organizations define wellbeing and quality of life? What do target communities in the global north or south mean by a quality of life? How can we measure change in wellbeing, and attribute it to our programming? Wellbeing and Quality of Life Assessment is a practical resource for people working in social or development policy and practice who are thinking about integrating wellbeing or quality of life in their work in both the global North and South.The main body of the book presents different tools that have been developed and used in social and development policy and practice and outlines the inspiration behind their approach, how it works, what has been learnt through it, and issues and dilemmas that remain.
Prelims [ About the editors| Acknowledgements| Foreword by Robert Chambers]
PART ONE: Introduction to wellbeing and quality of life: ideas, issues, and choices
1 Introduction: why wellbeing?
2 Key issues in wellbeing and quality of life assessment
3 Practical choices in designing a wellbeing and quality of life assessment
PART TWO: Wellbeing and quality of life in development practice
4 A social justice approach to wellbeing: the PADHI psychosocial framework
5 Inner wellbeing: the Wellbeing and Poverty Pathways approach
6 Traidcraft: assessing human flourishing
7 CAFOD: quality of life Batteries Tool
8 Trócaire: measuring change, person wellbeing, and programme impact using the Wheel
PART THREE: Wellbeing and quality of life in policy and advocacy
9 The potential for a wellbeing approach in policy making and sustainable development
10 Oxfam's Humankind Index
11 Wellbeing Wales: the Sustainable Wellbeing Framework
PART FOUR: Going forward
12 Conclusion: the politics of working on wellbeing
Further resources on wellbeing and quality of life
Index

Sarah C White Sarah C. White is senior lecturer at the University of Bath. She has more than ten years' experience researching wellbeing in developing countries, with the ESRC Research Group on Wellbeing in Developing Countries (2002-7); the Religions and Development Research Programme Consortium (2005-10) and the Wellbeing and Poverty Pathways project, 2010-14.
Asha Abeyasekera Asha Abeyasekera is a lecturer at the University of Colombo, Sri Lanka. She worked as Lead Researcher and Programme Manager of the Psychosocial Assessment of Development and Humanitarian Interventions (PADHI) Project, 2006-9.