Book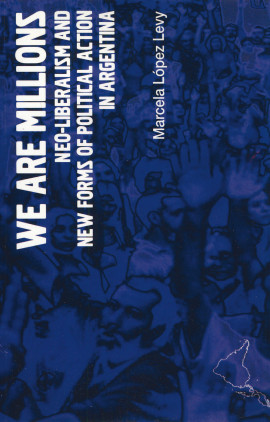 We Are Millions
Neo-liberalism and New Forms of Political Action in Argentina
Series: Latin America Bureau Short Books
Published: 2003
Pages: 152

eBook: 9781909013483
Paperback: 9781899365630
Neo-liberalism has claimed another victim: Argentina. Since the 1970s, a brutal transference of resources from the poor to the rich has taken place here. The wealthy have exploited the tools of neo-liberalism to make fast profits for themselves and international interests without a thought for the country's future. On the 19th and 20th December 2001, Argentines took to the streets in their millions and said "Enough!" to the plunder: they called it the "Argentinazo", and their demand was "que se vayan todos" - "out with the lot of them" - the corrupt politicans, the interfering IMF, the rapacious foreign companies and international banks. Two years on, it is clear that the Argentinazo was a turning point in the political life of the country. It was a wake-up call to citizens that they need to be more involved in the running of the country, or soon there will be no country left to run. "We are millions" looks at the politics which led to mass poverty and unemployment and describes the rich and varied social responses to economic meltdown and political crisis.
Prelims - We Are Millions (Title Page, Copyright Information, Contents, Acknowledgements)

1. We Are Millions
Marcela Lopez Levy
Marcela Lopez Levy works as a researcher and editor at the Latin America Bureau in London.
The Politics of Inequality in Globalizing Cities: How the Middle Classes Matter in the Governing of Buenos Aires
Kanai, J Miguel
Environment and Planning A: Economy and Space, Vol. 42 (2010), Iss. 8 P.1887
https://doi.org/10.1068/a42452
[Citations: 14]
Post-crisis Argentine films: De-localizing daily life through the lens of Jorge Gaggero
Garavelli, Clara
Studies in Hispanic Cinema, Vol. 7 (2011), Iss. 1 P.35
https://doi.org/10.1386/shci.7.1.35_1
[Citations: 2]
Politics within Complementary Currency Systems: The Case Study of Barter Clubs in Argentina
Ould Ahmed, Pepita
Review of Radical Political Economics, Vol. 50 (2018), Iss. 4 P.773
https://doi.org/10.1177/0486613417711504
[Citations: 0]