Book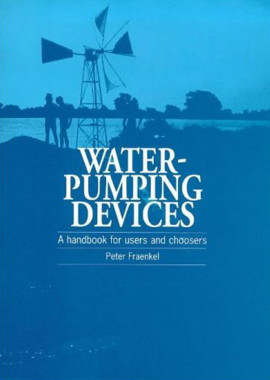 Water Pumping Devices
A handbook for users and choosers
Published: 1997
Pages: 264

eBook: 9781780445625
Paperback: 9781853393464
Efficient and effective irrigation of the land can have a dramatic effect on the agricultural output and economic well-being of a community. The smallholdings, defined in this book as up to 25 hectares (60 acres), can be the source of a significant proportion of a country's food production. At the heart of effective irrigation lies the problem of lifting or pumping water, and this handbook, newly revised and reformatted, surveys the water-lifting technologies that are available and appropriate for smallholdings. It is a detailed and practical review of the options, especially for irrigation but also for other purposes, and the costs and general suitability of the different technologies are examined with the aim of enabling farmers and policy makers to make informed choices.
INTRODUCTION 1

1 The importance of rural transport 3

Rural transport activities in the household 3

Domestic transport activities of women in a week 7

Reasons for different transport patterns 8

Rural transport needs 8

2 Identifying rural transport needs 12

Identifying needs 12

Transport and marketing 15

3 Addressing rural transport needs 19

Modes of transport 19

People moving on foot 19

People carrying loads on foot 21

People using bicycles and tricycles to move around 24

Using bicycles, trailers, wheelbarrows and handcarts to move loads 27

Using animals for transport 30

Transport infrastructure 37

Transport services 41

Motorized transport services 41

Non-motorized transport services 43

Non-transport interventions to improve access 43

4 Considerations in addressing transport needs 46

Access to, and control of, means of transport 46

Affordability 48

Promotion and attitudes 49

Maintenance 52

Monitoring and evaluation 52

5 Case studies 54

Women saving time on transport for education in Burkina Faso 54

Makete integrated rural transport project in Tanzania 55

Promotion of animal traction technology in Zambia 56

Women health workers on bicycles in Zimbabwe 57

Mraru women's bus service in Kenya 58

Women cycling in southern India 59

Women fuelwood carriers in Ethiopia 61

Women's pottery groups in western Kenya 62

Development and testing of a hand-pushed water carrier in Nigeria 63

viii RURAL TRANSPORT

6 Checklist for identifying and acquiring a means of transport 65

Identifying possible means of transport 65

Acquiring a means of transport 66

REFERENCES, FURTHER READING AND CONTACTS 6
Peter Fraenkel
Peter Fraenkel is a mechanical engineer with long experience of renewable energy systems and the author of many books and articles on wind, hydro, and tidal energy. He is a leading authority on water pumping technologies for developing country applications and was a founder and Director of I.T. Power from 1981 to 2000.
Marine current turbines: Pioneering the development of marine kinetic energy converters
Fraenkel, P. L.
Proceedings of the Institution of Mechanical Engineers, Part A: Journal of Power and Energy, Vol. 221 (2007), Iss. 2 P.159
https://doi.org/10.1243/09576509JPE307
[Citations: 83]
Wind Energy Explained
Wind Energy Applications
2009
https://doi.org/10.1002/9781119994367.ch10
[Citations: 0]
Individual lift irrigation: a case study in the Cau Son irrigation and drainage area, Red River Basin, Vietnam
Le, Chinh Van
Jensen, Jens Raunsø
Paddy and Water Environment, Vol. 12 (2014), Iss. 1 P.223
https://doi.org/10.1007/s10333-013-0380-4
[Citations: 1]
The performance of a new positive displacement pump targeted to improve rural water supplies
Wade, N. S.
Short, T. D.
Proceedings of the Institution of Mechanical Engineers, Part A: Journal of Power and Energy, Vol. 221 (2007), Iss. 8 P.1163
https://doi.org/10.1243/09576509JPE414
[Citations: 4]