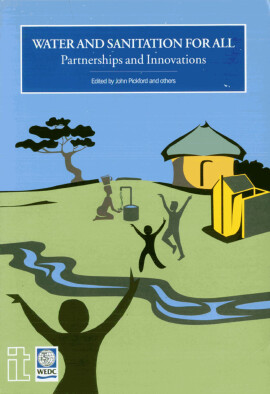 Water and Sanitation for All
Partnerships and innovations
Water and Sanitation for All is a collection of selected papers from the 23rd WEDC Conference in Durban, South Africa on partnerships and innovations to assist in achieving water and sanitation for all.
Published: 1998
Pages: 188

eBook: 9781780446363
Paperback: 9781853394447
Water and Sanitation for All is a collection of selected papers from the 23rd WEDC Conference in Durban, South Africa on partnerships and innovations to assist in achieving water and sanitation for all.
INTRODUCTION

Section A PARTNERSHIP

Getachew Alem Ethiopia

WATSAN projects: NGOs' experience in Ethiopia

Andrew Chalinder and Ms Tlamelo M Kedikilwe Botswana

New challenges and innovative partnerships

Michael Wood UK

Partnership changes in rural water supply

Section B SANITATION

S. Banister, Burke, Sekeitto, Mvulane, Bakainaga and Freeman

Evaluation of composting latrines

M. Chidavaenzi, M. Jere and M. Bradley Zimbabwe

Pit latrine effluent infiltration into groundwater

U. Heinss, M. Strauss and S.A. Lartnie Switzerland

Tons of excreta and ways to treat them

Guy Howard UK

Strategic approaches to urban sanitation

David Still and Richard Holden South Africa

Towards sustainable sanitation in South Africa

Section C COMMUNITY MANAGEMENT

A.D. Kirkwood Angola

Standpipe maintenance in Luanda, Angola

Festus Kwame Kwadzokpo Ghana

Community-based O&M challenges

Siphokazi Mpahla and Andrew MacDonell South Africa

Community decisions on Mvula Trust projects

Loveness Mpanje and Mrs Linda Milazi Malawi

Community management of rural water supply

Ms Thoko Sigwaza South Africa

Community participation in Qadi-Nyuswa project

Warren Smit and Norah Walker South Africa

Community involvement in local area maintenance

South Africa

Section D WATER QUALITY AND TREATMENT

R.S. Al-Khalili, J. P. Sutherlaiid and G. K. Folkard UK

Filtration with a natural coagulant

V. Chipofya, G. McConnachie, A. Warhurst, E. Patey and H. Ridgeon UK

Odour testing using moringa carbon 64

A. Gadgil, A. Drescher, D. Greene, P. Miller, C. Motau and F. Stevens USA

Field-testing UV disinfection of drinking water 67

Gumbo Bekithemba Zimbabwe

Integrated water quality management in Harare

Hielke Wolters and Godfrey Mwiinga Zambia

Potentials of roughing filtration in Zambia '

Section E SOLID WASTE MANAGEMENT

P.B. Majura Zambia

Refuse management problems in Lusaka, Zambia

J.H. van der Merwe and I. Steyl South Africa

Rural solid waste in the Western Cape

Sy Daiig Thi, Michael R. Digrigorio and Binh Nguyen Thanh Vietnam

Hospital waste in Hanoi

Section F FINANCE AND MANAGEMENT

David A'Bear and Don Crawford South Africa

The flip-cheque financial control system

L. Duncker South Africa

The question of sustainability

J.A. van der Linde Sotith Africa

Hermanus water conservation programme

Hassan Mohammed and Nasser Yakubu Nigeria

Towards affordable water supply

Section G WATER SUPPLY

Joseph Sainu Bockarie Botswana

Development, operation and maintenance of RWS

M.J. Clanahan Sotlth Africa

Sand abstraction systems

S.W. Hussey Zimbabwe

Small-scale 'sand abstraction' systems

H.O. Onek and S.M. Kayaga Uganda

Water utilities research: NWSC, Uganda

Section H HYGIENE, HEALTH AND GENDER

Nancy Cosway and Margaret Issaka Ghana

Women and water supply - a partnership

Diana E. Makule Tanzania

Water and sanitation - gender perspective

Bilkisu Omar Odekina Nigeria

Integrated rural development: Women involvement

Betty Yankson, F. Mawuena Dotse and Nii Odai Laryea Ghana

Integrating gender issues into water programmes

Section I INSTITUTIONAL DEVELOPMENT

Mrs V. Jansen and A. Austin South Africa

Educational tools for infrastructural development

N.A. MacDougall and F.N. Mwaura Kenya

Commercializing local government water departments

Nathi Mncwabe and Aubrey Mokoatsi South Africa

Rural local government in KwaZulu-Natal

Section J WATER RESOURCES

Celia Kirby UK

Shallow aquifer water quality risks

Erik Nissen-Petersen Kenya

Water from sand-rivers

Sharon Pollard and Anton Simanowitz Sotith Africa

Environmental flow requirements: A social dimension

Chris Print Somaliland

Subsurface dam for a pastoral environment

Section K MISCELLANEOUS

S.W. Gillham South Africa

Drought relief in rural KwaZulu-Natal

Paul Larcher WEDC

Emergency water supplies for transient populations
John Pickford John Pickford (1927-2006) founded the Water Engineering and Development Centre at Loughborough University 40 years ago.