Book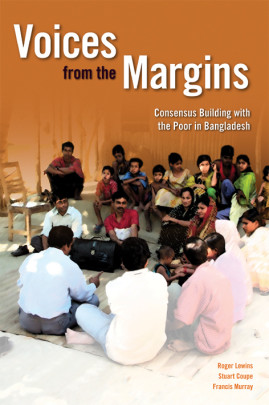 Describes the work of Practical Action in introducing consensus-based planning approaches in villages that are poor even by Bangladesh standards, where 90 per cent of people live under the poverty line and over 60 per cent are illiterate. These methods work on raising the voice and confidence of the poor at the local level within their communities, and the results have been spectacular: opening up new income generation and resource management and influencing opportunities for marginalized communities in flood-prone areas. Highly useful in countries that reject the role of NGOs in governance or human rights, and in planning for disasters and humanitarian interventions. Essential reading for programme staff of national and international NGOs, governance and rural development advisors in the national and multilateral agencies, Ministry officials, and researchers and students in universities and development institutes.
Contents

Foreword

Glossary

Introduction

Chapter 1 Conflict Resolution and Consensus-Building for Natural Resource Management

Chapter 2 PAPD in Bangladesh Charlands

Chapter 3 Experiences from Jamalpur Charlands

Chapter 4 Wider Lessons and Applications
Roger Lewins
Roger Lewins, formerly a Research Fellow at the University of Portsmouth, is an independent consultant in the field of development research. He currently specializes in governance issues in the fisheries sector.
Stuart Coupe
Stuart Coupe formerly International Projects Manager of the Reducing Vulnerability Team at Practical Action, an international NGO active on agricultural biodiversity and Farmers' Rights issues, has a background in Southern African Studies, including doctorate study and published works since 1992.
Francis Murray
Francis Murray is a Research Fellow at the Institute of Aquaculture, University of Stirling, UK.
Adapting to Climate Change
Community-based adaptation and culture in theory and practice
Ensor, Jonathan
Berger, Rachel
2001
https://doi.org/10.1017/CBO9780511596667.015
[Citations: 10]
Integrated action planning for biodiversity conservation and sustainable use of highland aquatic resources: evaluating outcomes for the Beijiang River, China
Bunting, S.W.
Luo, S.
Cai, K.
Kundu, N.
Lund, S.
Mishra, R.
Ray, D.
Smith, K.G.
Sugden, F.
Journal of Environmental Planning and Management, Vol. 59 (2016), Iss. 9 P.1580
https://doi.org/10.1080/09640568.2015.1083414
[Citations: 5]