Book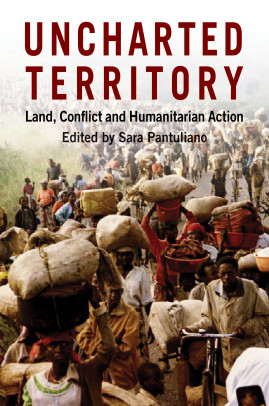 Uncharted Territory
Land, Conflict and Humanitarian Action
Published: 2009
Pages: 256

eBook: 9781780440408
Paperback: 9781853396878
Disputes over land often start conflicts; and land is often a key issue when refugees and internally displaced people attempt to return home when the conflict is over. Access to land affects people's choice to return and their prospects of recovery. Yet humanitarian agencies largely neglect these wider issues on the basis that they are too complex and politically sensitive, and that they lie in the mandate of development or human rights organizations. Uncharted Territory bridges the humanitarian and land tenure divide and seeks to understand how housing, land and property issues can and should be practically incorporated into humanitarian responses. The book explores the theoretical nexus between land, conflict and humanitarianism, discusses the challenges for a more integrated response, and presents the findings of case studies from Angola, Colombia, Rwanda, and Sudan. This book should be read by humanitarian aid workers, policy analysts, academics, and government officials in developing countries.
Prelims (Foreword - Antonio Guterres, Acknowledgements)

Introduction

Part One: Land, conflict and humanitarian action: Exploring the nexus

1. Why humanitarian organizations need to tackle land issues

Alex de Waal

2. Tackling land tenure in the emergency to development transition in post-conflict states: From restitution to reform

Liz Alden Wily

Part Two: Humanitarian intervention in land issues: Lessons and challenges

3. Humanitarian approaches to conflict and post-conflict legal pluralism in land tenure

Jon D. Unruh

4. Land in return, reintegration and recovery processes: Some lessons from the Great Lakes region of Africa

Chris Huggins

5. Leader of the pack: Who will take the lead on post-conflict HLP issues?

Scott Leckie

Part Three: Case studies

6. International standards, improvisation and the role of international humanitarian organizations in the return of land in post- conflict Rwanda

John W. Bruce

7. Land rights in Angola: Poverty and plenty

Conor Foley

8. Going home: Land, return and reintegration in Southern Sudan and the Three Areas

Sara Pantuliano

9. Between war and peace: Land and humanitarian action in Colombia

Samir Elhawary

Part Four: Conclusions

10. Charting the way: Integrating land issues in humanitarian action

Sara Pantuliano

Back Matter (Index)
Sara Pantuliano Sara Pantuliano is a Research Fellow and Programme Leader in the Humanitarian Policy Group of the Overseas Development Institute, UK.
A land full of opportunities? Agrarian frontiers, policy narratives and the political economy of peace in Colombia
Grajales, Jacobo
Third World Quarterly, Vol. 41 (2020), Iss. 7 P.1141
https://doi.org/10.1080/01436597.2020.1743173
[Citations: 5]
A Different Way Home: Resettlement Patterns in Northern Uganda
Sawyer, Adam
Joireman, Sandra Fullerton
Wilhoit, Juliana
(2010)
https://doi.org/10.2139/ssrn.1615648
[Citations: 0]
Contestation and Reconstruction: Natural Capital and Post-Conflict Development in Borderland Regions
Zetter, Roger
Blitz, Brad K.
Stability: International Journal of Security & Development, Vol. 3 (2014), Iss. 1
https://doi.org/10.5334/sta.ed
[Citations: 0]
From resolving land disputes to agrarian justice – dealing with the structural crisis of plantation agriculture in eastern DR Congo
van Leeuwen, Mathijs
Mathys, Gillian
de Vries, Lotje
van der Haar, Gemma
The Journal of Peasant Studies, Vol. 49 (2022), Iss. 2 P.309
https://doi.org/10.1080/03066150.2020.1824179
[Citations: 1]
Post-election Kenya: Land, Displacement and the Search for 'Durable Solutions'
Elhawary, Samir
Review of African Political Economy, Vol. 36 (2009), Iss. 119 P.130
https://doi.org/10.1080/03056240902904233
[Citations: 2]
Can humanitarian responses in urban areas reinforce underlying causes of vulnerability? Tweaking a livelihoods analysis of inequality and infrastructure in splintering cities
Crawford, Catherine Anna
Environmental Hazards, Vol. 10 (2011), Iss. 3-4 P.327
https://doi.org/10.1080/17477891.2011.597497
[Citations: 7]
Constraints to addressing food insecurity in protracted crises
Maxwell, Daniel
Russo, Luca
Alinovi, Luca
Proceedings of the National Academy of Sciences, Vol. 109 (2012), Iss. 31 P.12321
https://doi.org/10.1073/pnas.0913215108
[Citations: 14]
Sostenibilidad alimentaria en hogares con condición de desplazamiento forzado en el área metropolitana de Bucaramanga, Colombia.
Herrán, Oscar
Patiño, Gonzalo
Revista de la Facultad de Medicina, Vol. 62 (2015), Iss. 1Sup P.19
https://doi.org/10.15446/revfacmed.v62n3sup.40739
[Citations: 1]
Protecting future rights for future citizens: children's property rights in fragile environments
Joireman, Sandra F.
Oxford Development Studies, Vol. 46 (2018), Iss. 4 P.470
https://doi.org/10.1080/13600818.2017.1416073
[Citations: 3]