Book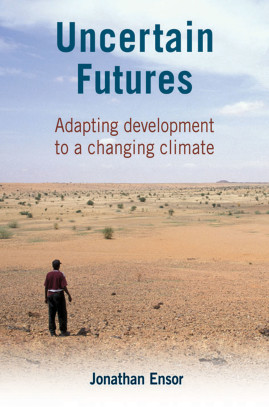 Uncertain Futures
Adapting development to a changing climate
Published: 2011
Pages: 120

eBook: 9781780440392
Paperback: 9781853397202
Community-based adaptation is a new concept whose meaning is still to be fully understood. Most agree that communities should be supported to respond to the challenges they face, and some see this as the goal of community-based adaptation. By contrast, Uncertain Futures proposes that community-based adaptation must also address inevitable future uncertainty by supporting the ongoing ability to change. In this view, attention is focused on adaptive capacity, through which communities are able to make changes to their lives and livelihoods in response to emerging environmental change. Uncertain Futures argues that as greenhouse gas emissions continue to accumulate, a 'business as usual' approach to development practice is increasingly inadequate and the importance of securing adaptive capacity becomes more urgent. Uncertain Futures examines this challenge, and invites readers to rethink development policy and practice in terms of how adaptive capacity can be best supported. This book should be read by the staff of donor agencies, policy makers, NGO practitioners, academics and students of development studies and the environment.
Prelims (Praise for this book, Contents, Boxes, Figures, Tables, Preface, About the author)

1. Community-based adaptation and development practice

2. Understanding adaptive capacity

3. Unpacking adaptive capacity

4. Adapting development – in practice

5. Uncertain futures

Back Matter (References, Index)
Climate Change Research, Policy and Actions in Indonesia
Integration into Development: Translating International Frameworks into Village-Level Adaptation
Turner-Walker, Skye
Anantasari, Esti
Retnowati, Arry
2021
https://doi.org/10.1007/978-3-030-55536-8_4
[Citations: 0]
'Walking along with development': Climate resilient pathways for political resource curses
Butler, J.R.A.
Wise, R.M.
Meharg, S.
Peterson, N.
Bohensky, E.L.
Lipsett-Moore, G.
Skewes, T.D.
Hayes, D.
Fischer, M.
Dunstan, P.
Environmental Science & Policy, Vol. 128 (2022), Iss. P.228
https://doi.org/10.1016/j.envsci.2021.11.020
[Citations: 1]
Who defines community in community-based adaptation: different perceptions of community between government and citizens in Ethiopia
Chung, Jin-ho
(2022) P.1
https://doi.org/10.1080/17565529.2022.2061894
[Citations: 0]
Understanding Context in Learning-centred Approaches to Climate Change Communication
Harvey, Blane
Carlile, Liz
Ensor, Jonathan
Garside, Ben
Patterson, Zachary
IDS Bulletin, Vol. 43 (2012), Iss. 5 P.31
https://doi.org/10.1111/j.1759-5436.2012.00360.x
[Citations: 7]
Synergies and trade-offs between adaptation, mitigation and development
Thornton, Thomas F.
Comberti, Claudia
Climatic Change, Vol. 140 (2017), Iss. 1 P.5
https://doi.org/10.1007/s10584-013-0884-3
[Citations: 40]
Making Community-Based Adaptation a Reality: Different Conceptualisations, Different Politics
Galvin, Mary
Human Geography, Vol. 12 (2019), Iss. 1 P.50
https://doi.org/10.1177/194277861901200104
[Citations: 3]
Meaningful Measurement for Community-Based Adaptation
Faulkner, Lucy
Ayers, Jessica
Huq, Saleemul
New Directions for Evaluation, Vol. 2015 (2015), Iss. 147 P.89
https://doi.org/10.1002/ev.20133
[Citations: 15]
Tools for CBA: Lessons from NGO Collaboration in Vanuatu
Webb, Julie
Vorbach, Daniel
Boydell, Edward
Mcnaught, Rebecca
Sterrett, Charlotte
Coastal Management, Vol. 43 (2015), Iss. 4 P.407
https://doi.org/10.1080/08920753.2015.1046807
[Citations: 4]
Power and differential climate change vulnerability among extremely poor people in Northwest Bangladesh: lessons for mainstreaming
Coirolo, Cristina
Rahman, Atiq
Climate and Development, Vol. 6 (2014), Iss. 4 P.336
https://doi.org/10.1080/17565529.2014.934774
[Citations: 15]
Rewilding
Adaptive co-management and conflict resolution for rewilding across development contexts
Butler, James R.A.
Young, Juliette C.
Marzano, Mariella
2019
https://doi.org/10.1017/9781108560962.019
[Citations: 7]
The full spectrum of climate change adaptation: testing an analytical framework in Tyrolean mountain agriculture (Austria)
Grüneis, Heidelinde
Penker, Marianne
Höferl, Karl-Michael
SpringerPlus, Vol. 5 (2016), Iss. 1
https://doi.org/10.1186/s40064-016-3542-1
[Citations: 12]
Pathways to a Sustainable Economy
Introduction: Pathways to a Sustainable Economy
Hossain, Moazzem
2018
https://doi.org/10.1007/978-3-319-67702-6_1
[Citations: 1]
How Feasible Is the Scaling-Out of Livelihood and Food System Adaptation in Asia-Pacific Islands?
Butler, James R. A.
Rochester, Wayne
Skewes, Tim D.
Wise, Russell M.
Bohensky, Erin L.
Katzfey, Jack
Kirono, Dewi G. C.
Peterson, Nate
Suadnya, Wayan
Yanuartati, Y.
Handayani, Tarningsih
Habibi, Putrawan
Jaya, I Komang Damar
Sutaryono, Yusuf
Masike-Liri, Barbara
Vaghelo, Desmond
Duggan, Kate
Frontiers in Sustainable Food Systems, Vol. 4 (2020), Iss.
https://doi.org/10.3389/fsufs.2020.00043
[Citations: 9]
Characterising resilience: unpacking the concept for tackling climate change and development
Bahadur, Aditya V.
Ibrahim, Maggie
Tanner, Thomas
Climate and Development, Vol. 5 (2013), Iss. 1 P.55
https://doi.org/10.1080/17565529.2012.762334
[Citations: 103]
Community-based adaptation: a review of past and future challenges
Forsyth, Tim
Wiley Interdisciplinary Reviews: Climate Change, Vol. 4 (2013), Iss. 5 P.439
https://doi.org/10.1002/wcc.231
[Citations: 79]
Integrating Top-Down and Bottom-Up Adaptation Planning to Build Adaptive Capacity: A Structured Learning Approach
Butler, J. R. A.
Wise, R. M.
Skewes, T. D.
Bohensky, E. L.
Peterson, N.
Suadnya, W.
Yanuartati, Y.
Handayani, T.
Habibi, P.
Puspadi, K.
Bou, N.
Vaghelo, D.
Rochester, W.
Coastal Management, Vol. 43 (2015), Iss. 4 P.346
https://doi.org/10.1080/08920753.2015.1046802
[Citations: 79]
On the Frontiers of Climate and Environmental Change
Paradoxes in Adaptation: Economic Growth and Socio-Economic Differentiation. A Case Study of Mid-Central Vietnam
Buch-Hansen, Mogens
Khanh, Nguyen Ngoc
Anh, Nguyen Hong
2013
https://doi.org/10.1007/978-3-642-35804-3_2
[Citations: 2]
Global environmental change I
Brown, Katrina
Progress in Human Geography, Vol. 38 (2014), Iss. 1 P.107
https://doi.org/10.1177/0309132513498837
[Citations: 343]