Book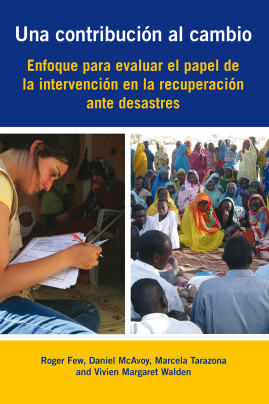 El número de personas afectadas por desastres va en aumento, y con él las expectativas que los donantes, el público general y las poblaciones afectadas tienen puestas en las organizaciones humanitarias. Las organizaciones deben ahora presentar pruebas del impacto de sus intervenciones, pero la aplicación de métodos de evaluación convencionales puede ser problemática. ¿Cómo podemos evaluar los efectos de las intervenciones? ¿Es ético utilizar a ciertas comunidades afectadas por un desastre que no reciben ayuda como grupos de control? ¿Es posible recopilar datos de base de personas que acaban de sufrir un trauma?

Esta guía proporciona un método fiable y práctico para identificar la contribución de una organización a la hora de cambiar las vidas de las personas durante el período de recuperación tras la aparición de un desastre.
Presenta 11 etapas en las que se acompaña a los evaluadores en el diseño de métodos cualitativos y cuantitativos, la recopilación de datos sobre el terreno y la presentación de las pruebas y del cambio. La guía Una contribución al cambio fomenta el reconocimiento de los esfuerzos llevados a cabo por las comunidades afectadas, así como del impacto de otros actores como los grupos gubernamentales o comunitarios.
La guía Una contribución al cambio está dirigida a responsables humanitarios y personal sobre el terreno así como a investigadores especializados en la ayuda humanitaria y el desarrollo internacional.
Preliminares (Contenido | Notas sobre los contribuyentes | Prólogo | Agradecimientos)

introducción

Primera parte: El enfoque

El énfasis en la evaluación de la "contribución"

Otros elementos que definen la metodología

Planificación y gestión

Parte Dos: herramientas y métodos de recolección de datos

diseño general

Pasos del 1 al 6

Tercera parte: Análisis y redactar

Pasos 7 al 11 de

Back Matter (Glosario | Referencias y recursos adicionales | Anexos)
Roger Few
Roger Few is a Senior Research Fellow at the University of East Anglia.
Daniel McAvoy
Daniel McAvoy is a Lecturer at the University of East Anglia.
Marcela Tarazona
Marcela Tarazona is a Senior Consultant at Oxford Policy Management.
Vivien Margaret Walden
Vivien Walden is the global humanitarian monitoring, evaluation and learning adviser for Oxfam GB. She is currently piloting a methodology for measuring change in the lives of affected communities after a disaster response. Vivien holds a PhD from the University of Manchester in evaluation of behaviour change, with HIV in Zimbabwe as the area of research.