Book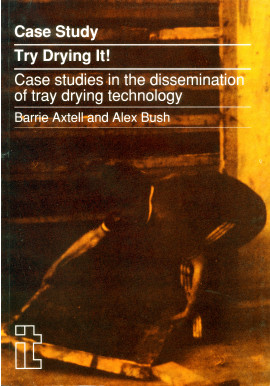 Try Drying It!
Case studies in the dissemination of tray-drying technology
Published: 1991
Pages: 72

eBook: 9781780443683
Paperback: 9781853390395
Shows how improving on the traditional techniques of drying by sun and air can provide income-generating activities for groups in the developing world. Examples from Peru, Colombia and Bangladesh; with detailed technical appendices.
Why use gypsum plaster? l
Gypsum or gypsum plaster? 2
Gypsum plaster — a well proven technology 2
The use of gypsum plaster 3
Manufacture 5
1. Raw gypsum 5
A) Types of raw gypsum
B) Sources
2. Gypsum plaster 7
A) The chemistry of plaster
B) Types of plaster
3. Tests and standards 11
A) Recognizing gypsum
B) Testing gypsum plaster
4. Production technologies 18
A) Extraction
B) Preparing gypsum
C) Calcining (heating)
5. Economics of production 30
A) Production inputs
B) Cost comparison with Portland cement
C) Choice of technology
Use in building 35
1. Wet' uses 35
A) Plastering
B) Plaster mortars
C) Plaster concrete
D) Decoration
2. Prefabricated elements 38
A) Plasterboard
B) Reinforced gypsum plaster
C) Earth blocks stabilized with gypsum plaster
D) Plaster blocks
Glossary 43
Selected bibliography 45
Contact addresses 47
Case studies
Case study 1: Field testing retarders 15
Case study 2: U.K. — manual crusher 20
Case study 3: Cape Verde Islands — flat-plate kiln 25
Case study 4: Mauritania — open-pan kiln 26
Case study 5: Iran — structural plaster 37
Case study 6: Ecuador — plaster ceiling panels 39
Case study 7: Turkey — stabilized block 40
Case study 8: Cape Verde Islands — wall block 41

Barrie Axtell
Barrie Axtell worked in the UK food industry for over 10 years, in 1981, he joined ITDG to start its agroprocessing programme and then became a private consultant providing technical consultancy inputs to agencies such as FAO, ILO, UNIFEM and ITDG.