Book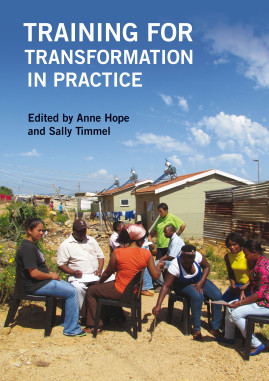 Training for Transformation in Practice
Series: Training for Transformation
Published: 2014
Pages: 290

eBook: 9781780448312
Paperback: 9781853398322
Hardback: 9781853398315
Training for Transformation is an approach to community organization encompassed in three books which enables people to 'read their reality and write their own history' using a combination of group processes, socio-economic analysis and organizational development processes. Since its inception 40 years ago, Training for Transformation has been put into practice in over 60 countries globally. But how have people been using these materials in their communities over this period? Training for Transformation in Practice brings together the experiences of activists who have adapted these materials to their own social and cultural contexts. The book describes the roots of Training for Transformation in people's struggles in the global South to gain political and economic independence and to overcome poverty. It outlines the theoretical origins of the approach and also includes Impact Assessment Tools, developed by activists who have used the training in their work.The book is inspiring reading for students of adult education and community organizers.
Prelims (Foreword/ Preface)

Introduction: A history of Training for Transformation

Part One: Moving a mountain starts with a small stone

Part Two: Seeking the self

Part Three: Healing the wounds of war

Part Four: Listening into dialogue

Part Five: Freedom from patriarchy

Part Six: Crossing cultures, building bridges

Part Seven: Long march through the institutions

Part Eight: It doesn't need to be like this

Back Matter (Epilogue/ Appendix/ Three poems)
Anne Hope
Anne Hope was born in South Africa, from where she was exiled during the apartheid regime. During this time she worked in Kenya, Tanzania, Uganda, Nigeria, India, and Zimbabwe.
Sally Timmel
Sally Timmel was born in the USA, where she became active in the civil rights movement. In 1984, with Anne Hope, she authored the Training for Transformation handbooks, and in 2002 initiated the Training for Transformation Diploma course at the Grail Centre in Kleinmond, South Africa.
Exploring Knowledge Management in Civil Society Organisations: Sustaining Commitment, Advancing Movement
Nugroho, Yanuar
Amalia, Mirta
(2010)
https://doi.org/10.2139/ssrn.1683283
[Citations: 0]
Addressing Multicultural Needs in School Guidance and Counseling
Counselling Pupils for Social Justice
Mafu, Noxolo
2020
https://doi.org/10.4018/978-1-7998-0319-5.ch014
[Citations: 0]
Participation in adult education for community development: a critical discourse analysis ofTraining for Transformation
Krupar, Allyson M.
Prins, Esther
International Journal of Lifelong Education, Vol. 35 (2016), Iss. 4 P.359
https://doi.org/10.1080/02601370.2016.1189460
[Citations: 2]
Socio-Economic Development
Games for Social Change
Keating, Paul
2019
https://doi.org/10.4018/978-1-5225-7311-1.ch045
[Citations: 0]
Research Anthology on Empowering Marginalized Communities and Mitigating Racism and Discrimination
Counselling Pupils for Social Justice
Mafu, Noxolo
2021
https://doi.org/10.4018/978-1-7998-8547-4.ch028
[Citations: 0]
Re-imagining the practices of town, social and community planning in Australia: opportunities for planning in neoliberal policy settings
Shevellar, Lynda
Johnson, Laurel
Lyons, Kristen
Australian Planner, Vol. 52 (2015), Iss. 4 P.266
https://doi.org/10.1080/07293682.2015.1056816
[Citations: 3]
Research Anthology on Navigating School Counseling in the 21st Century
Counselling Pupils for Social Justice
Mafu, Noxolo
2021
https://doi.org/10.4018/978-1-7998-8963-2.ch025
[Citations: 0]