Book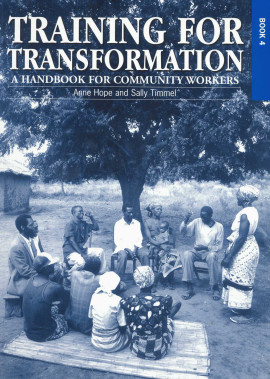 Training for Transformation (IV)
A handbook for community workers Book 4
Series: Training for Transformation
Published: 1999
Pages: 304

eBook: 9781780446288
Paperback: 9781853394614
Training for Transformation Book 4 is a practical and accessible workbook for community development workers. It recognises that the only changes which effectively transform the lives of poor people are those in which they have been active participants and focuses on five issues which have become more and more prominent in the concerns of communities throughout the world: the environment; gender and development; ethnic and racial conflict; intercultural understanding; building participatory governance. Each section contains a rich selection of relevant material designed to stimulate interest and debate, including simulations, real life stories, telling statistics, news articles and poetry and drama from local communities. The authors have drawn on their direct experience of working on community development programmes in South Africa and the USA, as well as feedback from many other countries where the Training for Transformation approach has been adopted. Training for Transformation Book 4 will be ideal for adult education workers, social workers, community development workers, church workers and trade union educators, and all organizations and individuals concerned with the process of transforming society.
Acknowledgements

Preface

Chapter 1 The environment

Chapter 2 Gender and development

Chapter 3 Racism

Chapter 4 Culture

Chapter 5 Transforming governance

Bibliography
Anne Hope Anne Hope was born in South Africa, from where she was exiled during the apartheid regime. During this time she worked in Kenya, Tanzania, Uganda, Nigeria, India, and Zimbabwe.
Sally Timmel Sally Timmel was born in the USA, where she became active in the civil rights movement. In 1984 Anne and Sally wrote the Training for Transformation handbooks, and in 2002 they initiated the Training for Transformation Diploma course at the Grail Centre in Kleinmond, South Africa.
A Holistic View of the Missioning Process
Pierce, Kathryn T.
Missiology: An International Review, Vol. 36 (2008), Iss. 1 P.33
https://doi.org/10.1177/009182960803600104
[Citations: 0]
Handbook of Research on Sustainable Development and Governance Strategies for Economic Growth in Africa
Advocacy as a Strategy for Sustainable Development and Economic Growth
Gbortsu, Fabian Kwame
2018
https://doi.org/10.4018/978-1-5225-3247-7.ch017
[Citations: 0]
Understanding Global Skills for 21st Century Professions
Global Skills for Global Social Change
Bourn, Douglas
2018
https://doi.org/10.1007/978-3-319-97655-6_12
[Citations: 0]
Contested Inclusions: Pitfalls of NGO Peace-Building Activities in Liberia
Fuest, Veronika
Africa Spectrum, Vol. 45 (2010), Iss. 2 P.3
https://doi.org/10.1177/000203971004500201
[Citations: 10]
Toward a Global Culture of Peace
Turay, Thomas Mark
English, Leona M.
Journal of Transformative Education, Vol. 6 (2008), Iss. 4 P.286
https://doi.org/10.1177/1541344608330602
[Citations: 12]
The Multicultural Context and Multidimensional Scope of Peace
Malan, Jannie
Journal of Peacebuilding & Development, Vol. 4 (2009), Iss. 3 P.7
https://doi.org/10.1080/15423166.2009.636382464959
[Citations: 3]
Photovoice as a Tool for Social Justice Workers
Molloy, Jennifer K.
Journal of Progressive Human Services, Vol. 18 (2007), Iss. 2 P.39
https://doi.org/10.1300/J059v18n02_04
[Citations: 41]
Book Review: Training for transformation in practice
Heaney, Tom
Journal of Transformative Education, Vol. 14 (2016), Iss. 3 P.272
https://doi.org/10.1177/1541344615608266
[Citations: 0]
The beginning stages of a social action training event
Fleming, Jennie
Groupwork, Vol. 14 (2004), Iss. 2 P.24
https://doi.org/10.1921/0951-824X.14.2.24
[Citations: 1]
Child Rights Education for Inclusion and Protection
Rights of Girls and Children with Disability to Non-discrimination and Inclusion
Desai, Murli
Goel, Sheetal
2018
https://doi.org/10.1007/978-981-13-0417-0_2
[Citations: 0]
Creating Community Cohesion: The Power of Using Innovative Methods to Facilitate Engagement and Genuine Partnership
Kagan, Carolyn
Duggan, Karen
Social Policy and Society, Vol. 10 (2011), Iss. 3 P.393
https://doi.org/10.1017/S147474641100011X
[Citations: 9]
Black Lives Matter and Bridge Building
Larson, Eric D.
Labor Studies Journal, Vol. 41 (2016), Iss. 1 P.36
https://doi.org/10.1177/0160449X16638800
[Citations: 5]
Dealing with difficult conversations: anti-racism in youth & community work training
Watt, Diana
Race Ethnicity and Education, Vol. 20 (2017), Iss. 3 P.401
https://doi.org/10.1080/13613324.2016.1260235
[Citations: 4]
Not Just Seeing, But Really Seeing: A Practical Black Liberationist Spirituality for Re-interpreting Reality
Reddie, Anthony
Black Theology, Vol. 7 (2009), Iss. 3 P.339
https://doi.org/10.1558/blth.v7i3.339
[Citations: 3]
An evaluation of a community living initiative in Ireland
Sheerin, Fintan
Griffiths, Colin
de Vries, Jan
Keenan, Paul
Journal of Intellectual Disabilities, Vol. 19 (2015), Iss. 3 P.266
https://doi.org/10.1177/1744629515573679
[Citations: 4]
Group Meeting Dynamics in a Community-Based Participatory Research Photovoice Project with Exited Sex Trade Workers
Barlow, Constance Anne
Hurlock, Debb
International Journal of Qualitative Methods, Vol. 12 (2013), Iss. 1 P.132
https://doi.org/10.1177/160940691301200103
[Citations: 11]
The Wiley International Handbook of Educational Foundations
Community Development
Kane, Liam
2018
https://doi.org/10.1002/9781118931837.ch2
[Citations: 0]
Community development: learning from popular education in Latin America
Kane, Liam
Community Development Journal, Vol. 45 (2010), Iss. 3 P.276
https://doi.org/10.1093/cdj/bsq021
[Citations: 24]
Black Theology in Transatlantic Dialogue
Where We Headed Now?
Reddie, Anthony G.
2006
https://doi.org/10.1057/9780230601093_7
[Citations: 0]
Racially and Ethnically Diverse Women Leading Education: A Worldview
Just Give the Money to the Women: Overly Simplified Advice that Works in International Education, Health, and Development Initiatives
Stonebanks, Christopher Darius
Sheerin, Fintan
Bennett-Stonebanks, Melanie
Nyirenda-Paradise, Jenala
2016
https://doi.org/10.1108/S1479-366020160000025015
[Citations: 0]
Participation in adult education for community development: a critical discourse analysis ofTraining for Transformation
Krupar, Allyson M.
Prins, Esther
International Journal of Lifelong Education, Vol. 35 (2016), Iss. 4 P.359
https://doi.org/10.1080/02601370.2016.1189460
[Citations: 2]
A Contextualized Approach to Black British Theology by Means of Dramatic Engagement
Reddie, Anthony
Journal of Adult Theological Education, Vol. 2 (2005), Iss. 1 P.11
https://doi.org/10.1558/jate.2.1.11.65716
[Citations: 0]
Inclusive Communities
Community Development's Radical Agenda
Ledwith, Margaret
2012
https://doi.org/10.1007/978-94-6091-849-0_3
[Citations: 0]