Book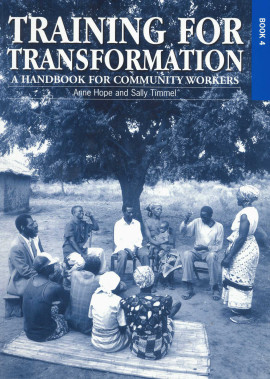 Training for Transformation (IV)
A handbook for community workers Book 4
Series: Training for Transformation
Published: 1999
Pages: 304

eBook: 9781780446288
Paperback: 9781853394614
Training for Transformation Book 4 is a practical and accessible workbook for community development workers. It recognises that the only changes which effectively transform the lives of poor people are those in which they have been active participants and focuses on five issues which have become more and more prominent in the concerns of communities throughout the world: the environment; gender and development; ethnic and racial conflict; intercultural understanding; building participatory governance. Each section contains a rich selection of relevant material designed to stimulate interest and debate, including simulations, real life stories, telling statistics, news articles and poetry and drama from local communities. The authors have drawn on their direct experience of working on community development programmes in South Africa and the USA, as well as feedback from many other countries where the Training for Transformation approach has been adopted. Training for Transformation Book 4 will be ideal for adult education workers, social workers, community development workers, church workers and trade union educators, and all organizations and individuals concerned with the process of transforming society.
Acknowledgements

Preface

Chapter 1 The environment

Chapter 2 Gender and development

Chapter 3 Racism

Chapter 4 Culture

Chapter 5 Transforming governance
Anne Hope Anne Hope was born in South Africa, from where she was exiled during the apartheid regime. During this time she worked in Kenya, Tanzania, Uganda, Nigeria, India, and Zimbabwe.
Sally Timmel Sally Timmel was born in the USA, where she became active in the civil rights movement. In 1984 Anne and Sally wrote the Training for Transformation handbooks, and in 2002 they initiated the Training for Transformation Diploma course at the Grail Centre in Kleinmond, South Africa.