Book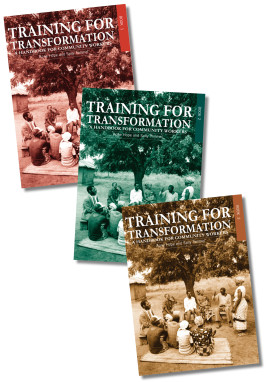 Training for Transformation
A handbook for community workers Books 1-3
Series: Training for Transformation
Published: 1995
Pages: 552

eBook: 9781780446271
Paperback: 9781853393532
Three volumes designed to assist workers in the field who are encouraging the development of self-reliant creative communities. The book has as its basic philosophy the belief that we should all participate in making this world a more just place to live in. Training for Transformation integrates the approach of Paulo Freire and how to put his method into practice, Manfred Max Neef's understanding of fundamental human needs, group methods which are essential for participatory education, organizational development, which stresses how to build structures which enable people to become self reliant, and social analysis to help groups find the root causes of problems.
Book I

1 Roots of this method

2 Survey for generative themes

3 Problem-posing materials

4 Adult learning and literacy training

Resources

Book II

5 Trust and dialogue in groups

6 Leadership and participation

7 Simple decision-making and action planning

8 Evaluation

Book III

9 Global- Local Analysis

10 Building a movement

11 New forms of management and supervision
Anne Hope Anne Hope was born in South Africa, from where she was exiled during the apartheid regime. During this time she worked in Kenya, Tanzania, Uganda, Nigeria, India, and Zimbabwe.
Sally Timmel Sally Timmel was born in the USA, where she became active in the civil rights movement. In 1984 Anne and Sally wrote the Training for Transformation handbooks, and in 2002 they initiated the Training for Transformation Diploma course at the Grail Centre in Kleinmond, South Africa.